Movies
Review: 'La La Land'
For all its ambition and good intention, this Hollywood nostalgia trip falls a bit flat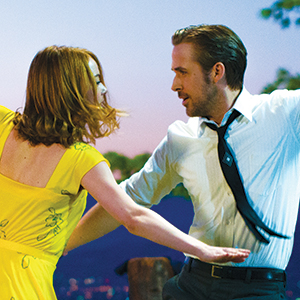 Wide-eyed Emma Stone is the draw in La La Land, an emulation of 1950s widescreen era musicals. Stone plays Mia, a barista/actress from Boulder City riding the wheel of auditions in Hollywood. She's starting to lose hope when she has a meet-cute on a crowded freeway flyover with the similarly frustrated Sebastian (Ryan Gosling). He orders her car out of his way, she flips him the Driver's Salute, and they're off to the races.
Sebastian is an aspiring jazz pianist, paying the rent while wearing parachute pants and playing A-ha covers in an '80s band. (La La Land, which has the spirit of a cover band, shouldn't have joked about this profession.) The two go to the movies at South Pasadena's moribund Rialto Theater for Rebel Without a Cause. Then they head out to the art deco Griffith Observatory for a CG-augmented celestial twirl in the artificial starlight, right in the very room where the apocalypse scene in Rebel took place. La La Land has references in its references.
The cityscapes are astoundingly pretty—24 hours of magic hour. Santa Monica Bay looks as ravishing as a painted scrim. Then come the complications: a second act, boy loses girl situation comes after Sebastian hooks up with a sinister big-name star (John Legend) to prostitute his jazz.
One sympathizes with director Damien (Whiplash) Chazelle's jazz worship and cinephilia; one is frustrated with a cinematic era in which the word "choreography" is so often preceded by the word "fight." Stone is quite sweet in electric purple and emerald dresses. She would have prospered in the Technicolor age. Her big spotlight number has some power, when she sings a chorus to the troubled: "Here's to the mess we make." But Chazelle's insistence on that power—spotlighting her so we're forced concentrate on Mia's pain—makes the tune as bulldozing as the showstoppers in Les Miserables.
See Jacques Demy's pastiche The Umbrellas of Cherbourg (1964). It's an example of something like this working, as a French reply to Hollywood. That old film's keel about unjust colonial wars and unplanned pregnancy makes it all the more moving, especially when contrasted to the problem of how famous two would-be celebrities should be. Trying to court Mia, Sebastian sings "What a waste of lovely light." Unfortunately, that's about the size of it.
La La Land
PG-13, 128 Min.
Camera Cinemas & CineArts