Movies
Review: 'Leave No Trace'
Ben Foster finds a new way to express his anger and rage
in latest film by 'Winter's Bone' director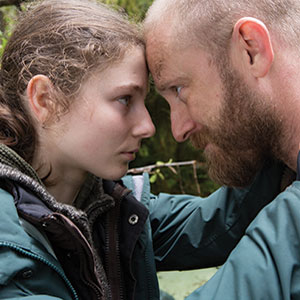 Ben Foster is making a career out of playing men who either can't or won't adhere to society's rules. He was a bank robber in Hell or High Water (2016)—exhilarated, and doomed, by the crimes he commits. In Hostiles (2017), his Sergeant Wills is an unrepentant soldier who's about to be hanged for murder. What you remember about his performances are the characters' meanness and their ornery unwillingness to seek redemption. They're not good or likable men. And you can see something in Foster's eyes that refuses to be tamed. But as Will in Debra Granik's Leave No Trace, he reinvigorates these baleful character traits by suppressing rather than expressing them.
Will is an army veteran and single dad who's living in an Oregon forest, off the grid, with his teenage daughter Tom (Thomasin McKenzie). They collect rainwater in a tarp, start fires with the wood they collect during the day and eat their meals together under the stars. Only once do they mention Tom's mother in a passing reference that obliquely suggests she might have died. Her absence and his military service must account for their mutual attachment, private language and estrangement from civilization. They're at ease with the natural world and their makeshift, outdoor existence—until they're discovered by the park's authorities.
What follows their capture is Granik's examination of a man whose sense of paternal responsibility competes against his impulse to keep running. Once the state system sets them up with housing, school and work, Will sees his daughter warming up to the idea of a life that includes other people, and possibly even friends. But inside their small flat, he looks like a caged animal. He has to remind his daughter, as much as he does himself, that they can still have their own thoughts even inside the roof and four walls that contain them.
Jennifer Lawrence received her first Oscar nomination for her role in Granik's last feature film, Winter's Bone (2010). The director also elicits a fine performance from McKenzie who plays someone much more vulnerable than the type of woman Lawrence usually projects on screen. Tom's a devoted daughter who believes that settling down would benefit her troubled dad as much it would herself. But Foster is as quietly compelling in his role as Judy Davis was in the similarly themed Gillian Armstrong film High Tide (1987). Davis too was a parent caught inside that painful vortex between duty and self-preservation. And, like Davis' character, we can feel the agony behind Will's decision to stay or go without Foster ever having to say a single word.
Leave No Trace
109 Mins; PG
Aquarius Theatre, Palo Alto