Movies
Review: 'Logan Lucky'
Soderbergh's 'Logan Lucky' features great performances, big laughs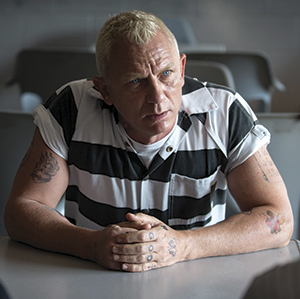 THE LUCKLESS LOGAN family of West Virginia has endured its share of misfortunes: melancholy brother Clyde (Adam Driver) lost a hand when he was a soldier in Iran. Now he's the depressed bartender at the Duck Tape Bar and Grill. Brother Jimmy (Channing Tatum) was an NFL prospect who had a career ending injury.
He had a job driving heavy machinery, up until the day the boss asks him to come into his office and to shut the door after him. Jimmy's ex-wife (an attractively tragic-faced Katie Holmes) married a car-dealing imbecile with a mini-mansion, while Jimmy abides in a single-wide.
Pushed into a bar fight by some jerkoff wealthy race car promoters (the ringleader, a Jheri-curled Seth MacFarlane), the Logan brothers and sister Mellie (Riley Keough) return to a life of crime. They plan to swipe the concessions money at the Charlotte Motor Speedway, across the line in North Carolina. Their quiet little robbery gets fouled up when the schedule changes: they and their cohorts need to hit it during the busiest weekend of the year, Memorial Day.
Here is a likable, sometimes uproarious, movie in which every actor comes up with something funny. We've got a lot of Southern gothics, but very few southern Ealing comedies. The oddball heist movies that the Ealing Studios made were their retort to the American gangster movies. They muddled through, by contrast with American caper films that ran like clockwork. But maybe the model of what director Steven Soderbergh has in mind is described when a TV newscaster terms the robbery "Oceans 7-Eleven."
Soderbergh, who directed the Oceans 11 remakes, was in this area for his 2005 film, Bubble—one of the first shot-on-digital features. This time he uses the local texture for comic appeal. Check the enormous aprons of concrete at the local gas stations, as big as the service stations in an Ed Ruscha painting. He stages diversions at a county fair, where the locals toss toilet seats like horseshoes, or bob in zinc washtubs for something larger than apples—perhaps raw yams. Part of this film's ingratiatingly leisurely appeal is Keogh, the wheel-woman for the heist. She's interesting even when she's just resting in the car for a minute and blinking. Like her grandfather, Elvis, Keogh doesn't have to do much to make a big impression.
Logan Lucky has well-picked scenes of the Charlotte speedway, with short but choice footage of the big race. The cars—wrapped in plastic advertisements—provide the brightest colors in the movie. The rival for this shine and color is on stage at a little girls' pageant, where Jimmy's wide=eyed daughter (Farrah Mackenzie) is tarted up with makeup to beat Tammy Faye Baker.
Soderberg doesn't seem to have mixed feelings, watching a singer crucifying the national anthem at the race, as military parachutists glide down, carrying an acre-wide American flag to earth. The question with this kind of movie is: how well would it go over in a Southern drive-in? Would it amble too much for them? Might the locals feel they were being mocked by the line that says robbing NASCAR is an assault on America? Between this and Cars 3 we're seeing some cinematic longing for a good time out in the country; if it doesn't help our national divide, surely it can't hurt.
The soundtrack includes garage hits and The Groundhogs. The unshowy camera work is part of this film's appeal, as are the stars studding the film, with Hilary Swank as a too-dogged FBI agent, holding her jaw firm like Dick Tracy; and Katherine Waterston as a lady running a free clinic out of a Winnebago. Happily, she's not dimming her deep brown eyes with tears for once.
One actor seemed noteworthy—a novice, if you weren't to realize the special tag was winking at you: "introducing Daniel Craig." He's British, despite the Strother Martin accent. Craig plays a muscular and wily vault-cracker named Bang, who has a platinum blonde Tintin haircut and a tattoo of West Virginia on his neck. The most ingenious person in the film, Bang engineers an elaborate jailbreak and tops it by breaking back into the joint before the dumbo warden (Dwight Yoakam) finds out. I can see Craig's career rise in the east like the sun.
Logan Lucky
PG-13, 119 Mins.