Movies
Review: 'Lost in Space'
Netflix resurrects campy TV show, giving it a serious, modern spin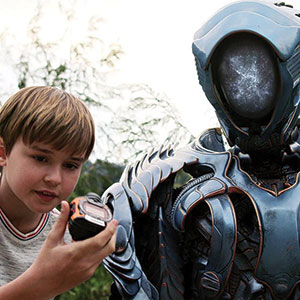 The beginning of the end of the world arrived on Christmas, just as we all knew it would. The giant meteorite dubbed Christmas Star hit the Earth and turned our planet's atmosphere into Beijing-level smog. Netflix's Lost in Space begins as one chosen family, part of a convoy of settlers, lands on a wintry planet.
Passengers include young Will Robinson (Maxwell Jenkins, as tearfully vulnerable as the original Billy Mumy was modestly cocky), the seemingly adopted prodigy Judy (Taylor Russell), and her miffed sister, Penny (Mina Sundall). On an unknown planet, the space travelers deal with family tensions, a pair of fire and ice ordeals, an emergency fasciotomy and the arrival of a suspicious castaway (Parker Posey) calling herself "Dr. Smith."
Molly Parker is deftly cast as the mother, Maureen. This Canadian actress once starred in such extreme indie movies as The Center of the World and Kissed. Parker honors the eerie maternal calm of June Lockhart, who originated the part. After the saucer crash in the season opener, Parker's Maureen announces that she has broken her leg, in tones that sound like a person who just discovered there's no milk in the fridge. She is also rather cool about her fraying marriage to John Robinson (Toby Stephens), a Marine whose frequent secret deployments caused a rift between them. Maureen tells him her opinion of how to teach the children: "I think it's important to them to have us speaking in one voice. That voice is mine."
There are few Spacies compared to Trekkies—the 1965-68 Lost in Space was known for recycled costumes and incidents of absolute ridiculousness: alien Vikings, vegetable people É But the worst of classic Star Trek is beat by the best of TV's Lost in Space. Early episodes had credible danger. "Robot," whose real name was Robot B-9, wasn't always benign. As voiced by veteran announcer Dick Tufeld, the robot was capable of pregnant silences and sudden, alarming outbursts: "WARNING!"
To encourage aliens to keep their distance, it would shoot lightning out of its claws. Netflix's reboot gives its robot—now a mysterious alien creation—the famous tag "Danger, Will Robinson," buzzed in a Ben Burtt-style voice. But the synthetic being has some human blood on his hands already. And there's no guarantee he won't change back into a killer.
The original Lost in Space allowed the comedic relief to steal the show. Harris' Dr. Smith, an apparent Communist agent, evolved into a wicked uncle, a shirker and a coward. Harris gave some of the most fragrant acting on that decade's television. He'd insult the robot: "Deplorable dummy! Tin-plated traitor!" Just as a queer kid could see Paul Lynde on Bewitched and figure out that there was life beyond being bullied in high school, kids who had a taste for sarcasm and literary language could watch Harris slap the robot with a thesaurus and feel that there was a place for them somewhere out there.
The name Smith is such a time-honored alias. Here, Posey's self-proclaimed doctor goes on a long trek with a fellow shipwreck victim, Ignacio Serricchio's Poe Dameron-like Don West. The color in these sequences is convincingly extraterrestrial—a little digital augmenting adds a slight trace of green to the sky and a purple-brown tinge to the land; far more subtle and convincing than the overwrought planet-building of A Wrinkle in Time.
It's hard to imagine Posey taking over the show in subsequent seasons; she's a seether, not a needler like Harris, and she's still a wild card. But her naysaying adds tart contrast to Judy's Miss Perfect qualities, and it's clear she'll be exploiting fissures in the broken home, or, rather, broken spaceship.
The undertone of divorce is essential to the adventure. The scene of dad John lamely trying to chat up son Will, asking him if he's still interested in baseball and plastic models is meant to wring a baby boomer's heart, even if those questions would be anachronistic in the near future. Mostly this new version, basically as family friendly as the original, provides the audience with a taste of nostalgia without over serving them. It plays like something made for love instead of money.
Lost in Space
Now Streaming
Netflix