Movies
Man of Steel
Man of Steel manages to make both Krypton and Earth look dark and forbidding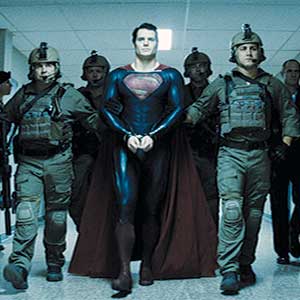 It's not your father's Superman, but is it your kid's? Man of Steel reprises the plot of Superman II (1980) with the invasion of Earth by a squad of evil Kryptonians. Their leader, the fascist Gen. Zod (Michael Shannon), sports a Mongol beard and a mark of Cain scar; he escaped from entombment in living fiberglass in the Phantom Zone.
Can Superman stop them? Maybe. Henry Cavill plays the part with simplicity. Director Zack Snyder prepares us for the circussy uniform by muting the colors and animating the cape so that it is jaunty even in a dead calm.
Longtime fans get a small taste of what we came for: a balletic pirouette as Superman glides to earth with Lois Lane (Amy Adams) in his arms. We'll never see a Superman movie in which Lois fails to introduce herself as a Pulitzer Prize-winning reporter. Adams breaks no new ground in the role, but there is a spark between the two of them, and they chat nicely.
Mostly, Man of Steel is not a graceful movie, in form or subject. It is about things getting smashed. The finale is a month of Sept. 11ths. Man of Steel doesn't stint on fights and flights, but there's very little spontaneous grace to conflict with the mandatory Hero With a Thousand Faces elements. The origin story is sliced into flashbacks; the story has been so oft-told, it's not a narrative problem. The only problem is how to set the mood.
Take Diane Lane, cast as Martha Kent. As an actress, Lane has demonstrated an ability to do as much with as little as the cook in the Stone Soup story. She has a tender moment early on, coaxing her son, traumatized by the sudden advent of his X-ray vision. Mostly, she has the look of someone who just got the script five minutes ago. Manhandled by aliens, her house destroyed, she bucks up smartly: "It's just stuff."
Superman keeps neglecting to ask people how they are. When he does ask that kind of question, it's as characteristic a Superman moment as seeing him punch Zod through several city blocks of skyscrapers. He doesn't ask Lois how she's healing after he cauterizes her wound with heat vision. He doesn't even check to see if his mother has any broken ribs.
Russell Crowe deploys a Richard Burton accent as Jor-El. I'm not spoiling anything by noting that, like Obi-Wan Kenobi, we don't see the last of Jor-El after he takes one for the team. (Being a woman, Superman's birth mother accepts suttee instead.) The film's design is severely phallic; the Kryptonian armada looks like an explosion at a Good Vibrations store.
It may not have been a million-dollar idea to make Krypton a place of virile fascists and doddering civil authority. What puts the edge in Superman's voice is the fact that he's a refugee, which is essential to his ceaseless efforts to keep humans from destroying themselves through crime and war. The filmmakers do the Christian side of the story proud. Superman is 33, the traditional age of Jesus in his last year. In a moment of doubt, he poses in front of a stained-glass window depicting Gethsemane.
There's not so much of the Jewish side: the idea of Krypton as Superman's Zion. The planet is high-tech Troglodyte, with images communicated in 3D pinscreen, like sculptures made from molten buckshot. Man of Steel gives us one of the unhappiest sci-fi visualizations of a planet since Prometheus—at one moment, the rise and fall of Krypton is illustrated in what looks like gilded debris from a 1930s World's Fair pavilion.
But is Earth any nicer? A muddy sepia tints Superman's flights around the world; it's Spare the Air Day even before the apocalypse begins. The heavy digital treatment of the visuals to allow the extensive CGI flying and destruction ends up stinting the beauty of our planet.
In the Smallville scenes, Snyder tries to evoke something like the Kansas of Terrence Malick with brief shots of an upended Radio Flyer and a torn, dying monarch butterfly. But the mood fails, mainly because we seem to be viewing our world through a sheen of crankcase oil.
143 Min., PG-13