Movies
Review: 'Margarita With A Straw'
This film by the locally based Wolfe Video is the production house's best yet.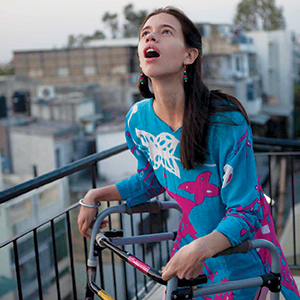 Let's hear it for Wolfe Video's new release, Shonali Bose's Margarita with a Straw, finally getting a theatrical run in San Jose. The New Almaden-based indie film distributor has been around since 1985, before the beginning of the indie film wave. But this may be the best movie they've released in 31 years.
Margarita with a Straw is a bright, ingratiating film with an unlikely star: Laila (Kalki Koechlin) a college girl with cerebral palsy. Though navigating life in a wheelchair and with severely affected speech, she doesn't let her troubles keep her from looking for romance in all directions.
Living in a financially untroubled household near Delhi, Laila is accepted well enough at school, stealing a first kiss and then dropping the boy she kisses afterward. The spurned boy makes the traditional spurned boy-threat: 'Being friends with normal people isn't going to make you normal.' Laila is accepted to NYU and her mother (the one-named actress Revathi) accompanies her to Manhattan. Laila adjusts to this new world with speed, though perhaps Bose has overemphasized the familiar figures from so many Manhattan coming of age movies, the paternal old chess players on the sidewalk and the kindly bus driver.
After Laila wanders into a Black Lives Matter protest and recovers from teargas, she encounters a Pakistani-Bangladeshi fellow student, the lovely, blind Khanum (Sayani Gupta). As they tour the Metropolitan Museum together, Khanum reads Laila's face with her fingertips; she's a little miffed at how modest Laila has been: 'Bitch ... you're beautiful!' The film's title comes from Laila's very first drink, ordered at the venerable Greenwich Village jazz spot, the Cafe Wha; after that cocktail, Laila spends the night with Khanum. It's easy to cover up the relationship, because it's the last thing her mother would suspect. When Laila's mother returns to India, the two girls move in together.
Koechlin is beautiful indeed. She has the kind of generous lips Steven Tyler made famous, flawless teeth and large hazel eyes. We do get a lot of pretty people in the movies, and Koechlin has something better—a way of enchanting and capturing the camera. It's a good thing, because she's in almost every scene. Her trouble with motion doesn't matter; the camera glides with her wheelchair, setting up easy tracking shots seen from over Laila's shoulder.
Beauty can get you into trouble; it starts to attract Laila's too-blonde, too-cute British attendant (William Moseley, Chronicles of Narnia) who helps her with books and physical matters. What happens between them is a very good depiction of one of those trysts that overcomes people who are right on the cusp of 20—an affair so fast and fleeting, the only excuse you can give is 'It just happened.'
Margarita with a Straw isn't perfect. The characters tend to flatten the farther they get from the camera. Laila's Punjabi father (Kuljit Singh) is so kind and gentle that he fades right out of the movie. Bose doesn't excel at depicting the passing of time. The transitions are wrenching, as if the film had been brutally edited down from a longer version. Early on, when Laila goes from writing songs on a computer to DJ-ing at a song competition, the scenes change so rapidly we're left to suspect that the contest is a fantasy sequence. Laila wins, and the well-meaning judge explains to the crowd that they're giving Laila the prize to honor the efforts of a handicapped girl. That's when we learn that Laila has enough motor skills to give someone the finger.
But the subplot about a mother's illness seems mostly there to provide third act tension—the illness is concealed from her daughter, as in the old melodramas. The film is dedicated to the child Bose lost, and still grieves for. This may have influenced Bose's decision to anchor this young girl's story with mortality. The director might have done better sticking with love instead of loss. What really matters here is the radiant and unusual story of Laila making her way in the world.
Margarita with a Straw
Unrated; 100 Mins.
Camera 12