Movies
Review: 'Mission: Impossible—Fallout'
The latest in action film franchise is a nearly perfect, highly explosive delight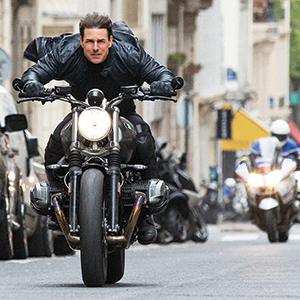 The IMF's quarry is a mysterious anarchist calling himself "John Lark," a nuclear terrorist who has wrought a long, tedious manifesto about the importance of purging the Earth through suffering. By contrast Mission: Impossible—Fallout gives one nothing to suffer over except for the winching of nerves during one of its expert fight sequences, it's rousing soundtrack by Lorne Balfe and it's soaring mountain and cityscapes.
This time Ethan Hunt (Tom Cruise) must retrieve three plutonium spheres from what's left of the Syndicate of Solomon Lane (the Eli Wallach-like Sean Harris). Hunt is forcibly saddled with Walker (Henry Cavill) a hard-on from the CIA. Betrayal is in the wings as both Langley and MI-6 interfere with the game.
Hunt is on more rooftops than Spider-Man, crawling around the dome of St. Paul's, the tower of the former Bankside Power Station, and the glass-roofed Grand Palais in Paris. Nothing takes the ennui out of what critic Edmund Wilson called "Europe strutting its same old stuff" like unleashing the spies on these monuments. The motorcycle and car chases are at a new level of brilliantly orchestrated chaos—a motorcycle donuting around a five sided Parisian square and seeing hoards of cops barricading every street emptying into it; the sky shell-pink and ravishing as every cop in France chases the IMF. And the stunts! Consider 15 seconds of this: a biker T-boning the side of a large truck and somersaulting to the pavement. Watch and remember the renowned stuntman, Dar Robinson, who died doing such a seemingly simple flip.
Hunt's IMF contains, as always, Ving Rhames dripping with humanity, and expert comedy relief from Simon Pegg, getting the jitters before yet another dangerous impostiture. The finale, a helicopter chase through the Himalayas with every warning button flashing, ends with a cliffhanger worthy of the term.
You could say that Mission: Impossible—Fallout has everything you'd want from a spy movie, but it wouldn't be correct. What's missing, probably in the name of realism, is the elegance of the Bonds—the luxury side, the pauses for dinner. Vanessa Kirby, a stunner, turns up as some sort of wealthy but unsavory financier with a knife in her garter belt. And then she's gone. Shuttled off to the side, she has to give Hunt a weird quick goodbye kiss instead of the proper wining, dining and quip-trading she could have expected from 007.
Mission: Impossible—Fallout
PG-13; 147 Mins.
Valleywide