Movies
Review: 'Molly's Game'
Director Aaron Sorkin loses the plot in overly punchy dialogue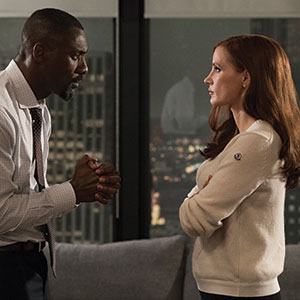 Recalling the dude's habit of lying on the floor and listening to recordings of bowling tournaments, one wonders if Jeff Lebowski would be a fan of Aaron Sorkin scripts. Debuting as director in Molly's Game, the eminent screenwriter (Moneyball, etc.) uses Oliver Stone- and Martin Scorsese-style visual overload to accompany all the endless proactive talk, talk and more talk.
It's reminiscent of the bowling ball's long rumbling prelude and inevitable crash into a pyramid of meticulously arranged pins.
Jessica Chastain plays Molly Bloom. It sounds awfully like a pseudonym (who names their daughter after the most famous masturbator in English lit?), yet the movie assures us it's on the level. In this film, based on Bloom's memoir and its aftermath, Molly is a beautiful woman in trouble with the law. She's been caught running ultra-high-stakes gambling parties in Los Angeles and New York. Here, movie stars, hedge fund managers and Russian mobsters rubbed shoulders and lost fortunes—before squealers and the feds ruined the game.
Such a woman sounds like a sport. Sorkin won't have that, laying down several inches of dramatic mortar showing us that compulsion, bad luck and poor parenting resulted in Bloom's alleged crimes. Her debonair lawyer, Charlie Jaffey (Idris Elba, squandered), tries to wring the truth out of this stubborn client, insistent on her as a victim of circumstances. If Molly is remote, it's because she grew up with a demanding father, Larry (Kevin Costner), a psychiatry professor who groomed her to be a champion.
How dare you judge me, says the script. And then it gives us excellent reasons to judge her: in narration Molly talks of her CV and her LSAT scores, her nerve as a mogul skier, the tough break she had at the Olympics (pale shades of I, Tonya), the scoliosis she triumphed over, and the gambling empire she set up using the "$1,700 I saved up from babysitting." (Indeed?) The audience isn't going to hate her because she's a criminal. They'll hate her because she's an overachiever.
While flaunting the girl power, Sorkin is studying Chastain's cleavage like a tourist photographing the Grand Canyon at sunset. And yet the film is devoid of sexual passion—it's far more interested in money than bodies. Molly's Game has a repellant counterpoint under its magazine-cover feminism. It suggests women are smarter, and that's why we men have a duty to mold them. Who will crack this brittle woman first, either Jaffey, the lawyer who acts like a shrink, or the actual shrink who sired her? If you have any friends in the psychiatric field, it'd be worth buying them a ticket, just to see the look on their faces when Larry begins a speech telling his daughter, "I'm going to give you three years of therapy in three minutes..." This awesomely patronizing incident is earlier mirrored by Molly's story about a harlot she knew, a lady who traded a dirty weekend in London for a Chanel bag. Point being, Larry would be wise to double up on the academic pressure on his own little girl.
If only Molly's Game allowed Chastain a less bulletproof, more human touch to the role, instead of this all-u-can-stand buffet of Type-A, whip-smart dialogue. Sorkin as director shows what an Aaron Sorkin script looks like before someone takes a red marker to it. Here are lines that look great on paper and are hard to recite, speed bumps he builds on roads he seeks to race down.
He finds three ways to explain something when once was enough, as when Molly describes her settings as "the world's most exclusive, decadent and glamorous man-cave." An Austrian blueblood gambler is nicknamed both "Captain Von Trapp" and "Otto von Bismarck"—even if that were funny, the Iron Chancellor was a Prussian.
Below and above everything in Molly's Game is the dialogue. Except for speculation over whether one of the unidentified celebs at the poker table is supposed to be Tommy Wiseau, there's not much to the movie but the words.
Molly's Game
R; 120 Mins
Valleywide