Movies
Museum Hours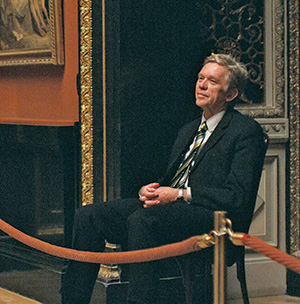 I owe Nicholas Roeg, in his The Man Who Fell to Earth, for citing the Brueghel painting "The Fall of Icarus" at the big museum in Brussels, as well his quoting of W. H. Auden's poem about it, "Musee des Beaux-Arts." Very enlightening to a dumb kid who had just come to see David Bowie.
Writing about film, I try to avoid the word "beautiful." It's such a soppy, indistinct term. Seeing Jem Cohen's Museum Hours, it's sorely tempting to use it. Maybe Museum Hours just needs to be called "special." Like Russian Ark, it's one of the rare, intriguing subset of films about the interior of a museum. The narrator is a nigh-elderly guard Johann (Bobby Sommer) a former rock roadie. For several years he has worked in Vienna's Kunsthistorisches Museum, and the museum has apparently rendered him bemused.
In what is more like a premise than a plot, Anne, a Montrealaise, has come to Vienna to tend her comatose cousin. She knows no one in the city, and she is at loose ends. This visitor is played by Mary Margaret O'Hara—a cult singer/songwriter, easily recognizable from voice alone as Catherine O'Hara's sister Johann tells us how he befriended Mary, getting her a walk-in pass to the museum, and eventually volunteering to guide her around the city. It's a different Vienna than we've ever seen in movies—more grit, leaden skies, pigeons, slushy streets, a fast food stand called "Kismetkebab," a Wienerwald of frozen grass, a bust of Salus that some passing jackass has given a cigarette butt to smoke.
The museum, where we spend most of the film, has a famous collection of Pieter Brueghel the Elder, including "The Tower of Babel" and "The Peasant Wedding." A female guide leads us through, suggesting (to a restless tour group—one is checking his cell phone) that this matchlessly democratic painter was the first documentary maker.
Unlike the ship Auden wrote about, Museum Hours doesn't have somewhere to go. Yet I grew to love this sensitive and conversational film, because of—instead of despite—its seemingly anti-cinematic elements, its blackouts, its heavy narration, its focus on the stillness of art and its insistence on the beauty of loneliness.
Unrated; 107 min.