Movies
'Neighbors'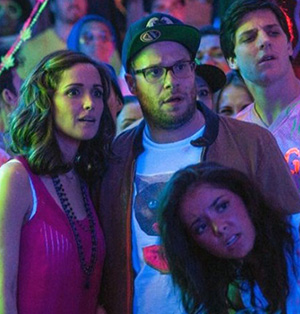 Strange how Neighbors is Seth Rogan's most all-killer, no-filler film. It's so muscular it seems like a breakthrough. The bear-like icon of the Apatow era comedy is funny—when he's on a roll and grousing he reminds you of Albert Brooks at his best. But Rogan works in films that always seem spun out of improv and then cut back to size—it's a form of comedy that is to comedy what slash and burn is to agriculture; it depletes the audience and the performer alike.  Neighbors is directed by Nicholas Stoller of Forgetting Sarah Marshall, which exemplified the first swollen, then carved-down style. Like Knocked Up, Forgetting Sarah Marshall seemed like one of those movies that wasn't going to end until the audience rose up and ripped the screen to shreds, with Jason Segel's muppety romantic ambitions running out the clock.
Neighbors is by contrast, brutally cut, with reality TV show editing—deliberately idiotic novelty wipes, such as a star wipe and a clock wipe, propel the story. But the cutting doesn't go against the grain. This comedy has a careening style, with day-glo debauchery out of Gaspar Noe and Harmony Korine (if influence is a demonstration of greatness, maybe Spring Breakers was that big a deal).
The plot is as simple as a classic Warner Brothers cartoon or a 1920s two-reeler:  Mac (Rogan) and Kelly (Rose Byrne) a couple with a six month old baby are living happily in their suburban house when they suddenly get Delta Psi's frat house as a neighbor.
The twist is that the couple is all for it—life as shut-in parents was getting on their nerves. ("Why don't you leave it at the fire station?" suggests a pal who invites them to a concert without their baby.)  Zac Efron, demonstrating alarming American Psycho inflections, is the frat president, Teddy—he has his own concerns about the mark he will leave on fraternity history. Efron gets to show off his physical perfection and action-figure six-pack ("He looks like something a gay guy designed in a laboratory," Mac says.) The couple and the frat party together till sunup and brotherly love and handshakes are exchanged... until that night's wall-shaking party; the Delta Psis refuse to answer the phone, the cops get called, the gloves are off. The dubious battle begins and the baby gets sidelined, for genuinely sweet reaction shots—these include a leer recalling the brat in Von Trier's Antichrist as it scopes its parents in mid-primal scene. You do have to appreciate the first movie in 10 years with a baby in it that doesn't have a diaper joke.
Rose Byrne is Neighbors' biggest surprise. Byrne is in her 30s now, terribly beautiful, woefully beautiful, lean and dark and with sad, Celtic eyebrows. For years director worked that sense of tragedy, even in Hollywoodized classical tragedy: she played captive Briseis in Troy. Someone realized that all the best comedians have tragic faces and Byrne finally started doing work I felt like talking about, as in Bridesmaids and I Give It A Year. She gets to use her Australian accent here, and there's no sense of a movie star bravely slumming through a dick-joke laden comedy:  she's avid for this, and lights up with the eagerness to fight the frat-rats. The couple makes a tight unit, holding the perimeter. Kelly is the first one in the attack when a pediatrician does something comically horrible to shame this shame-free couple.  
Stoller puts the comedy where a general would, in the front, instead of making this another family feud, a boring sitcom paradigm of the put-upon man and his naggy wife.  Kelly is full of vicious mischief, engineering a smooth plan to destroy the frat from within by putting "hos before bros." The highlights are high-performance Jackass-like pranks; a novel use of a 3D printer; pornographic topiary; Lisa Kudrow as the ill-mannered, ineffectual dean, and the best white-people-doing-rap scene I think I've seen (the referent is OutKast's "Hootie Hoo"). Animal House is considered a classic for a dozen or so routines, but there's more vigor and force here—Neighbors may be the ultimate frat-house comedy.
R; 96 MIN.