Movies
Review: 'Now You See Me 2'
An interview with Jon M. Chu, local-born director behind this magician caper sequel.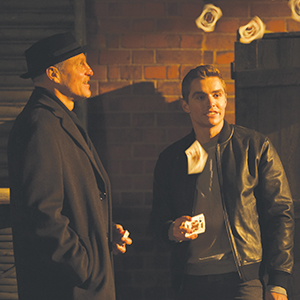 Jon M. Chu, the son of the restaurateur who runs Chef Chu's in Los Altos, sped to the top of his profession as a director. Following the auditorium-filling Step Up series and a Justin Bieber concert movie, Chu's new film Now You See Me 2 has the moviemaker in cahoots with a couple of other Valley-bred talents.
The film's scriptwriter is Saratoga's own Ed Solomon (Levity, Bill and Ted's Excellent Adventure); and Now You See Me 2's co-star is Palo Alto's Dave Franco. "I didn't know him back then, but I had mutual friends with his brother," Chu says from Los Angeles by phone.
Magic on film may seem a weird sell in an age when you can vanish anything with digital technology; it's as bemusing as the days when a ventriloquist named Edgar Bergen was a national radio star. This spirited, if hurried, caper reunites the Avengers of magic—The Four Horseman—in a globetrotting adventure. Co-stars Franco, Woody Harrelson (in a dual role as good and evil twins), Lizzy Caplan and Jesse Eisenberg deploy weaponized illusions in New York, Macau and London. On their trail is Mark Ruffalo, as the FBI agent who may have sympathies with these gentleman criminals, and previously-burned Horseman associates Michael Caine and Morgan Freeman.
The film's credit sequence is overflowing with magic consultants, including David Copperfield as executive producer. "We had the mentalist, Keith Barry, and experts on sleight of hand and cardistry," Chu says. "We always had a magician on set, it was like a 9-year-old's birthday party. Dave Franco's character, Jack—who did the human three-card monte trick at Greenwich Market in London—had to learn the entire act, so we could do it live with the audience and stay on the shot without cutting away."
He also faced the challenge of conjuring magical performances from his heavyweight actors. It couldn't have been easy for a Chu—a director not yet known for drama—to intervene between Ruffalo and Freedman.
"There's a lot of stuff going on with a huge cast—that's why I have wrinkles in the film so they can all get a moment," Chu explains. "We had some discussions, when Mark and Morgan had their scenes. As short amount of time we had, though, eventually, you turn on the camera and try to keep up."
As a boy, Chu frequently visited the Civic Light Opera in San Jose. He was a devoted fan of musicals, having studied violin and saxophone, and taken tap dancing lessons for 12 years. His aspirations were aided by the engineers who ate at his father's restaurant.
"People came from Adobe, Sun and Apple," Chu says. "When they found out that Chef Chu's son was interested in digital film, I pretty much had a new computer every two months. It was as if I were raised to become a filmmaker by the Silicon Valley."
Chu's most-watched film may be the playful, pre-flight safety video, which he produced for Virgin Airlines in collaboration with choreographer Todrick Hall. "I had just seen an inflight video that very day, and I thought, 'I have to do this, this is destiny.' Virgin let me do what I want, telling me, 'We just have to OK this with the FAA.' I get an email every other day from a passenger, either annoyed with it or appreciating it."
Was it possible that the experience of working with dancers helped him as a director, since one aspect of directing is studying the way the actors move?
"I'm not a choreographer, though I work with a lot of them," he says. "I feel I can add to the storytelling and movement with it. But I always saw myself as more of a storyteller, who could meld into different worlds, using the language of dance and action. It's almost like what happens in a musical—the magic happens when words aren't enough."
Now You See Me 2
PG-13; 129 Mins.
Valleywide