Movies
Preview: 'Olivia de Havilland Festival'
Stanford Theatre celebrates works of 'Gone With the Wind' actress.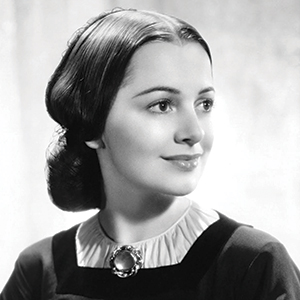 Olivia de Havilland, who will be 100 years old July 1, is being honored at the Stanford Theatre with a 15-film retrospective, celebrating her long acting career. Raised in Saratoga, she showed an unstoppable streak at an early age, moving out of her home even before she graduated from Los Gatos High. Her stepfather—the manager of a since-defunct San Jose department store—had threatened to kick her out if she didn't stop performing. De Havilland was discovered by an agent of the impresario Max Reinhardt while she was playing Shakespeare in a local theater. She was signed to a Warner Brothers contract, and starred as Hermia in the 1935 film of A Midsummer Night's Dream. At 5-foot-3, she embodied the Shakespeare-ism: 'Though she be but little, she is fierce.'
On the Havilland's centennial birthday, the theater will screen one of her best-known performances: Melanie Hamilton Wilkes in Gone With The Wind. Frail Melanie is a vision of then-popular dreams of the old south: 'endangered' was De Havilland's word for Melanie, the reverse image of the conniving Scarlett. De Havilland says Melanie was 'the woman I wish I could be.'
Good thing for film fans that De Havilland wasn't that woman. She sued the factory-like Warner Brothers over the inferior roles she was offered. It became a two-year fight, but there's still a so-called De Havilland law on the books to keep contracts from indenturing artists. Few would argue De Havilland did her best work at Warner Brothers, even with a dynamic co-star. That was Errol Flynn, whom she loved, and whom she played against in seven ages, from Elizabethan England, to old west Santa Fe, to the Little Bighorn, to the Charge of the Light Brigade.
The fest focuses on key years in this powerful, subtle and delightful actor's career—from 1935's Captain Blood to the 1949 My Cousin Rachel. She took a turn into film noir (The Dark Mirror, where she plays twins). She's a woman gone mad in The Snake Pit. Her two Oscar-winning parts are revived in The Heiress and the unwed mother drama, To Each His Own. One scarce movie, unmissable for cultists of James (Bride of Frankenstein) Whale: The Great Garrick, about the great Shakespearean of the 1700s. More on this fest in Metro as the spring unfolds.
Olivia de Havilland Festival
May 6-July 3
Stanford Theatre, Palo Alto