Movies
'On My Way'
Deneuve flies the coop and heads for the backroads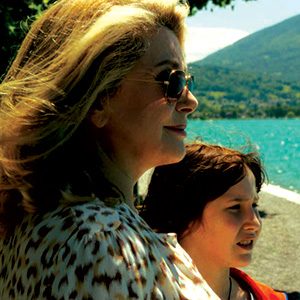 If there's such a thing as a French heimat movie—like the German genre that seeks that nation's heartland—Emmanuelle Bercot's On My Way (Elle S'en va) is it. The star is Catherine Deneuve, but her half-century career in films isn't treated as stuffy material to be honored. It's a playful, loose film with no queening allowed. Deneuve is a prime center for such an examination of France. She once had a government job modeling for the French Republic's Marianne emblem, which is as if the U.S. State Department had hired Bruce Willis to pose as a bald eagle.
This hard-to-resist road picture, sketchy yet firmly sketched, contrasts two aspects of France. One is the big-box store/superhighway landscape that might as well be Ohio—recently well observed in the excellent short, Just Before Losing Everything. The other is the country backroads on which Deneuve's Bettie drives, bewildered. At the start, Bettie works in a moribund restaurant where the customers are old and dull; Bettie takes their orders, and her sharp-eyed mother Annie (Claude Gensac) works as a cashier.
The mother and daughter live on the premises. Their living room is lit by the bluish light of an aquarium, with a pair of squabbling lobsters in it. Mascots, likely. Bettie and Annie like to pinch each other, too.  Annie drops a bomb on her daughter. She's heard gossip that Bettie's married lover has just run off with a 25-year-old girl. Heartsick, Bettie goes out for the proverbial pack of smokes and keeps on driving.
Bercot's approach is neo-documentary, in shots of storefronts that look like the hamlets seen in the film, Journal de France, or as when Bettie bums an emergency cigarette from a non-professional actor, a bachelor farmer. He rolls one with his sausagey fingers and tells the story of his life. He's 80 and yet it still only takes a few sentences. In search of more cigs, Bettie drives to the only place open on Sundays for miles around—a country & western bar called La Range. She drinks too much there and wakes up with company. Farther down the road, Bettie detours to her estranged daughter Muriel's place to take care of her equally estranged 11-year-old grandson, the pleasingly bratty Charly (Nemo Schiffman).
There is a disturbing early juxtaposition in the film—the meaty, weathered Deneuve of today and a cut to a grainy black-and-white newspaper photo of the lady in her days of poreless perfection decades ago. In 1969, Bettie was Miss Brittany, though fate kept her from wearing the tiara and the sash of Miss France. So another detour: Bettie and Charly arrive at a lakeside hotel where the beauty queens of yesteryear are being primped for a charity calendar. They fan their hot flashes as the organizers fawn: "The whole of France is here."
The runaway Bettie is finally cornered. It's significant that the clash happens during an election-day dinner at the big backyard of Charly's ornery grandfather (Gerard Garouste), a small-town mayor.
Charly honors the day by mocking an election poster for Marine Le Pen, the nationalist daughter of her ogreish right-wing dad. A neighboring accordionist visits, playing a very old song by Pierre-Jean de Béranger, a songwriter as characteristic of France as Stephen Foster is in America.  
Bettie's seething daughter Muriel (the one-named actress Camille) pays her mother a grudging compliment: "You'll look beautiful in your coffin"—meaning you'll be good-looking till the bitter end.
On My Way is so salty that it's possible this "compliment" wasn't an idiom.
Deneuve holds this rambling movie together—and demonstrates her survival on screen is due to the fact that she was ever a skilled deadpan comedian. See how funny she was in Belle de Jour (1967) currently on Hulu Plus; it's the Bu—uel film that automatically condenses several million words of blogged prose about Fifty Shades of Grey into 1 1/2 hours of good-looking adult comedy. Her Bettie may be lost at the wheel, but Deneuve isn't coasting. Like the Mercedes she pilots, she's a high-mileage classic.
Not rated; 116 MIN