Movies
Review: 'Only the Brave'
The story of the Granite Mountain Hotshots falls short of a heroic tribute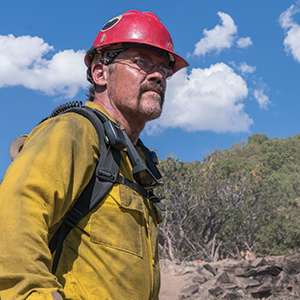 Locals are well primed to admire the heroism of firefighters. Their jobs only get more difficult each year, and no praise is worthy enough for them. Sadly, along comes Only the Brave, with its unimaginative title—a true story of loss, easily predictable from seeing the name Jennifer Connelly in the credits. As the actress Sylvia Sidney once said about the weepy parts she had, Connelly should have been paid by the tear.
It's the story of the Granite Mountain Hotshots, a team dropped in to dig firebreaks and set off controlled burns in the Arizona hills near Prescott. Miles Teller is the rookie McDonough, called Donut, the town fuckup given the chance for redemption by the chief, Eric Marsh (Josh Brolin). At home, there's strife between Marsh and his horse-rescuing wife Amanda (Connelly): she wants a kid, he doesn't want to leave a kid orphaned by fire. Happily, Connelly isn't given the line "If you go fight that fire, I might not be here when you get back." (It's actually "You live in a glass box labeled, 'Break in case of fire.'")
In glimpses, we see Connelly as she was in the days before she became a weeping Madonna; she's a lithe horsewoman, and she looks good in a cowboy hat. Visually the two work well together, what with Brolin having one of the best chins in the business.
Director Joseph Kosinski has worked with Disney and on the upcoming sequel to Top Gun. Here he went with the latter's hyper-proactive style—lots of butt-baring, cock-rock and ball-busting. The script has a lot of flatulence—backdraft, in the smoke-eater's parlance, especially some two men and a baby stuff about Donut coping with parenthood. The fires are fierce, but they come late in the film. Meanwhile, Kosinski fattens a lean narrative with failed poetry. This includes Brolin's haunting by a flaming bear he encountered on a job—"the most beautiful thing I ever saw"—we see the bear, too, made visible in the kind of CG that doesn't work and hasn't worked from at least as far back as the flaming moose in 2009's Knowing.
You'd almost buy it as symbolism, when Marsh tells the tale to his father-figure (Jeff Bridges). Only the Brave's script is so weak that it makes Brolin and Bridges look not like the top-drawer actors that they can be, but instead like second-generation movie stars putting their feet up.
Only the Brave
PG-13, 134 Mins.
Valleywide