Movies
The Best Oscar-Nominated
Short Films of 2014
Find out which Oscar-nominated short films to see and which to skip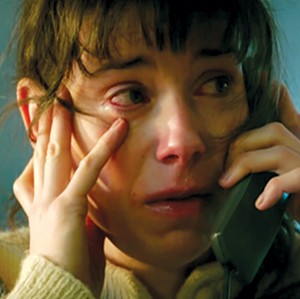 In the years I've spent reviewing movies, I've come to anticipate great things from Academy Award-nominated short films, which I almost always find more impressive than big-name features. However, this year's roster of Oscar-hopeful shorts leaves me wanting. Far too many are safe and toothless—peculiar considering the vast selection of short films released in 2014.
In the Best Live-Action Short category, the nominee The Phone Call starts with a touching image: a forlorn Sally Hawkins at a London bus stop, wearing the kind of pink toque you'd put on the head of a toddler you didn't like. Mat Kirkby's direction never transcends the radio-play set up in this story of the encounter between a suicide counselor and a weeping elder. And this is despite what Hawkins can do with her sweet, honest face and what an off-screen Jim Broadbent can do with his voice.
Aya is an Israeli tale of mistaken identity and romance, in which a woman (Sarah Adler) sportively decides to pretend to be a driver for a car service at the airport. She picks up a Danish pianist (Ulrich Thomson) with one of those cruel Olivier/Branagh mouths. It's evidence that the political mess in Israel has squashed what used to be one of the world's most exciting cinemas into paradigm-reinforcing soap opera. Boogaloo and Graham is set during the '78 troubles in Northern Ireland, and yet it's all too cute. Is there an Urban Chicken Film Festival yet? Here's one for it.
I didn't buy the Swiss import Parvaneh, being unconvinced with both its depiction of violence and its careless subtitling ("Hey, sweatheart!" says a harasser to an illegal immigrant in Zurich). Clearly it's here for the star-making performance by the solemn and sweet Nissa Kashani.
Butter Lamp by Hu Wei towers over the other four. A travelling photographer somewhere deep in rural Tibet, manipulates various scrims (Disneyland, mini-mansion, Tiananmen Square) as families of Tibetan countrymen crowd in front of it for a $2 photo. The only film like it is Atom Egoyan's Calendar. The scrim, with its fantasy realms, turns out to be a curtain closed over China's Tibet policies. They are illusion, but there is nothing flat about the families, squabbling and worrying as they take their places on this stage. In one sharp moment of human haplessness, a bewildered old lady kneels, worshipping the canvas image of the sacred palace at Lhasa.
Of the Best Animated Short nominees, Feast, which opened for Big Hero 6, is the likely Oscar winner. That's not just because it's Disney—it's because of the expert wordless storytelling that allowed a tale of heartbreak and reunion to be told in the background, as a happy little dog chows down for dear life.
Of the other nominees: A Single Life concerns a big, red-headed singleton, being swallowed alive by a song, as if in a David Lynch movie. Brevity can really undermine a promising subject, as it does here.
In Daisy Jacob's The Bigger Picture, two wary brothers are made rivals by their dying mother's moods. The characters are cave-painting flat, with Fred Flintstone five o'clock shadow on their jowls. Suddenly, the 2-D scheme yields to vertiginous dingy hospital hallways that go deeper than the Simplon Tunnel. British-made, the film evokes constant rain. The water won't stay outside, thanks to overflowing bathtubs, and tea-pouring that floods a room like a broken levee, drowning the needling, old-lady prattling.
Speaking of inundation, the fourth nominee, titled The Dam Keeper, features prettily rendered funny-animals, but it's more meant for a Caldecott medal than an Oscar.
If for some reason there's an upset, the Norse/National Film Board of Canada short Me and My Moulton could have a worthy win. Director Torill Kove is haunted by arch-1960s Scandinavian design, Marimekko fabrics and stilted three-legged chairs that keel over during family dinners.
A "girl meets bicycle" story, the film is a subject of universal appeal. Kove hints at forlornness in this telling—which never comes off as privileged whine—of being the child of an artsy misfit father who is stalling on his promise to provide a bike. A well-behaved kid hates to show ingratitude, seeking what Kove calls "the perfect balance of giving and receiving"—not a bad description of the ideal state of mind of a film watcher.