Movies
Review: 'Pain and Glory'
A depressed director reckons with this past in this excellent Spanish-language film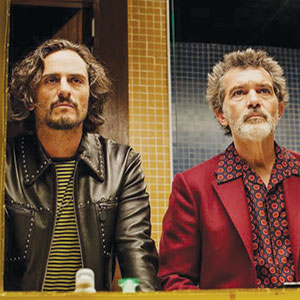 In his new film, Pain and Glory, a 70-year-old Pedro Almodovar looks back on his life; the Spanish director's surrogate (Antonio Banderas) is named "Salvador Mallo," sort of an anagram. He's tormented by maladies. None are lethal, though each one is enough to dissolve his concentration. He lays on his couch, being tended by his P.A., Mercedes (Nora Navas) whose main job is answering "no" to all requests. Fragments of projects emerge and sink back into oblivion: why write if you don't have the physical ability to direct?
When a cinetheque revives his 1989 film, Mallo plans a personal appearance with the star he hasn't spoken to in three decades. Stubbornly, Salvador insists that this star Alberto (Asier Etxeandia) gave a performance that was based on the wrong drug. Instead of the exuberance of a cocaine user, Alberto had the heavy death-on-the-installment-plan vibe that came from caballo (they call heroin "horse" in Spain, too). Alberto is still using and gets Salvador to ride the horse in question. To patch their quarrel Mallo gives him a monologue called "Addiction" to perform—the successful performance draws, out of the past, Mallo's old lover (Leonardo Sbaraglia).
Almodovar's previous film, Julieta, was based on a trio of short stories, and this too is like a series of tales. It fills in some of the blanks around Bad Education and the village scenes in All About My Mother. We see a childhood spent in a whitewashed cave village with his mother (Penelope Cruz); here is the young Salvador's first moment of sexual desire, so strong that it makes him faint. Lastly comes the death of his mother (played in age by Julieta Serrano), who schemes to make sure the details of her funeral are just right.
Banderas never gets the praise he deserves. His appealing quizzicalness is now turned to that question every survivor of a wild life faces. The question is phrased like so: how did a gilded youth, who once had Madrid in the palm of his hand, who travelled, who heard the music of the Malecon in Havana, and watched singer Chavela Vargas rip her heart out on a stage in Mexico City... how, after all those adventures, did he become a grizzled recluse, immobilized by depression?
Pain and Glory is like getting a letter from Almodovar, but what's here is not all in words. He may not quite be the last filmmaker left who understands the power of color, but his eye has little equal; he notices the harmony of colors, even in a shot of his daily regime of pills.
Pain and Glory
R; 1 hr 53 Mins.
3Below Theaters & Lounge, San Jose
3belowtheaters.com