Movies
Review: 'Prospect'
Independent space-Western does big things on a small budget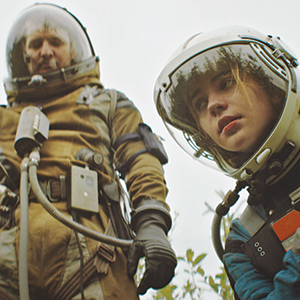 There's no friction in outer space, yet the intriguing indie Prospect begins with it—the chafing between the teenage daughter Cee (Sophie Thatcher) and her hapless, slightly stoned father Damon (Jay Duplass), travelling to mine on a seemingly played-out planet. Directors Christopher Caldwell and Zeek Earl begin with a used-future look: space seen through a shuttle's window scratched with graffiti, the hieroglyphics of some yet-unborn langage.
It's a rough ride to the frontier planet, a wetland of ferns and shining flies and deadly aerial spores. (The Seattle-based filmmakers shot this in the Hoh rainforest on the Olympic peninsula.) Blown off course, the craft is shipwrecked a long foot journey away from the target. They were headed to a hidden motherload of valuable gems, growing in the living membranes of a polyp-like creature called an Aurelac. The stones are tricky to pick out from the meat, since they're protected with an acid strong enough to melt flesh.
And what commences as something on the line of Outlands (1981) or TV's The Expanse, becomes a straightforward space-Western, as Damon and Cee have a run-in with Ezra (Game of Thrones' Pedro Pascal). He's an attractive no-good killer straight out of the Old West, complete with a false courtliness, a dandy mustache, an ornate vocabulary devoid of contractions, and a gun that goes bang.
Cee is forced in a partnership of necessity with this thief. They encounter half-sane indigenes crouching in a subterranean longhouse, as well as the desperados waiting for them at the mining site. The film's ticking clock is the problem of how to get back to the Mothership before it warps space to return home.
It's not the most important part of the story, but the action choreography is a little obscured. Even when not seen through the point of view of smudged helmet glass, it's hard to tell who's doing what to whom, as if the MPAA had demanded cuts. But this is never too extreme with the violence—in an amputation scene, it's praiseworthy how well pity is emphasized over violence. Thatcher is a strong, resolute heroine, and this is an impressive debut, both solid and atmospheric.
Prospect
R; 98 Mins.
Thru Nov 25
3Below Theaters, San Jose