Movies
Pruneyard Cinemas Replaces Former Camera 7
The new Campbell theater complex will serve food, craft cocktails and beer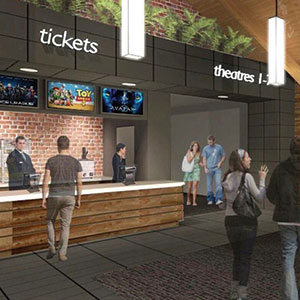 The Pruneyard Shopping Center in Campbell is approaching the half-century mark. Many of its contemporaries have been bulldozed for new development, but this tree-lined, open-air plaza is getting renovated. It has a new anchor. The shuttered Camera 7 reopens as the Pruneyard Cinemas, with half the seats and twice the appeal.
It possesses that satisfying new-car smell, and features electric reclining seats and an adjoining restaurant—one menu for snacking or dining as you watch, a larger one for the lounge. The Pruneyard will be the first Silicon Valley representative of a nationwide trend of cocktails at the movies, offering up an alternative to binge watching on the couch. While some local theaters serve beer and wine, this is the first such venue where moviegoers will be able to order cocktails directly from their seat in the theater.
Los Angeles has already gone all in for movies and drinks instead of Netflix and chill. San Francisco has a branch of the Austin-based Alamo Drafthouse—that theater's Isaac Shumway was a consultant on the Pruneyard project. The management is a four-partner group: attorney Peter Liebow, long-time exhibitor Jack NyBlom, who co-founded Camera Cinemas in 1975; Dan Orloff of Hope Services, and Ed Rathman, one of the original investors in Eulipia, the predecessor of Café Stritch.
The kitchen's walk-in refrigerator is laden with locally sourced produce for the restaurant. The Cedar Room is decorated with 1950s RKO movie posters. The bar isn't just a service bar for the waiters to deliver a drink order in the dark—"like Ninjas," in Orloff's words. It's planned to be a destination. Built in the space that used to belong to Boswell's, a notorious stained-glass lined fern bar of the '70s, it includes a stage for jazz and blues. Because of noise regulations, music ceases at 10pm in downtown Campbell. Here the locals can stay up late.
Food ranges from spare-rib sandwiches to wild arugula and roasted pear salads. Suggested "Theater cocktails" include Negronis and a $14 "Nitro Zombie 1935" ("2 Max Per Guest") as well as a suggested menu of boilermakers. Even an Akiva Goldsman script would sound plausible after an Elijah Craig Small Batch chased with a Berryessa Double Tap IPA. On the menu are top-shelf mezcals, vodkas and whiskeys, a wine list and 22 taps, about 10 of them rotating for local brews. Here are offerings as mild as Sierra Nevada's Kellerweis and as profound as Old Rasputin Imperial Stout. It only looks expensive: seat prices are at parity with the big-box theaters, $14 Friday and Saturday to $8 Tuesday seating all day.
Pruneyard Cinemas
Coming soon
Pruneyard Shopping Center, Campbell