Movies
Review: 'Purple Rain'
Looking back, Prince's big screen debut is cringeworthy; his music,
however, holds up just fine.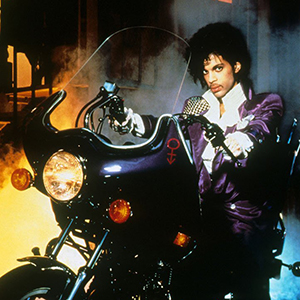 A week ago, Purple Rain was just another bad '80s movie. Prince's untimely death at age 57 changed that, bringing downloads and revival bookings at everywhere from the AMC Theaters nationwide to San Francisco's Castro Theater. Time hasn't been kind to this vehicle for its star, which was a monster hit when it was released—earning back it's cost eightfold at the box office in 1984.
It's infrequent that a rock movie shows off talent at their best advantage, but it was Prince's own idea to make himself into a James Dean-like rebel, zipping around on an underpowered motorcycle, suffering through his parents' violent fights at home. (They're tearing him apart, just like in Rebel Without a Cause.)
Prince plays The Kid, a rising star fighting for recognition at a Minneapolis nightclub. The place seems to also be the center of the showbusiness world, considering how it lured the New Orleans singer Apollonia (played by Apollonia Kotero) to the frozen north. She becomes the source of rivalry between The Kid and the evil, movie-stealing bandleader Morris Day. Day serves the noble purpose of comedy relief: he does everything our hero wants to do, except he does it the wrong way. Day's bluster and jerkiness—exemplified by Day tossing a spurned girl into a dumpster—is right there so we never have unwanted thoughts about The Kid's narcissism or self-seriousness. Yet Day has the best line in the movie. Praising Apollonia's terrifically intricate mouth, he says: "Your lips would make a lollipop too happy."
A great believer in closeups, director Albert Magnoli puts the light where the money is. All is forgiven when Prince gets on stage. Shirtless, furiously stroking his (literally) ejaculating guitar neck. Prince stares us down with his smoldering gaze, giving us the benefit of his Rudolph Valentino-worthy nostril flaring. "The Beautiful Ones" is performed as the camera ping-pongs between our hero and Apollonia, who is weeping prettily with contrition in the audience.
You could get more of an idea of the flabbergasting range of Prince from the SNL special, now on Hulu. When he finally gets to dance in Purple Rain, the movie at last delivers the elation of Prince live. Still, too often, Prince on-stage here is shot from an immobile, front row center camera, the proscenium arch all but visible. It's all something you either have to put up with, or view through a purple filter of nostalgia.
Prince's untimely death brought back his music—it's everywhere on the streets and in the stores, and that's a blessing. That sound is more timeless than Purple Rain, even if it keeps Prince alive. The final slow-mo wave goodbye and freeze frame renews the sadness of this loss.
Purple Rain
R; 111 Mins.
AMC Theaters