Movies
'Queen Christina' Screens
at the Staford Theater
Garbo's famous role as 'Queen Christina' is a fairy tale for the ages.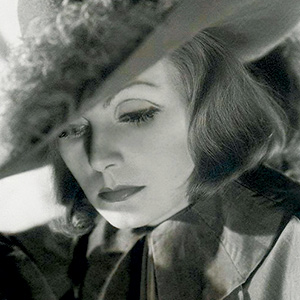 Think of Queen Christina (1933) as a fairy tale. Restless with her duties, a queen disguises herself as a man and leaves her court to go hunting. Snowbound at an inn, she meets the love of her life. As pressure mounts on her to make a royal marriage, her own kingdom becomes too dangerous for her lover, a foreigner of low rank.
The political side of this story is like the sturdy political side of the recent Cinderella. It grounds the romance, overcoming the aspects of a 1933 film that might make a 2015 audience snicker. These include poor rear projection, moments of stagy gesticulation, and the too-visible false eyelashes on the unforgettable face of Greta Garbo.
It takes more than a flutter of falseness to rob Garbo of her still very lethal effect in closeup. And the final moments of Queen Christina include one of the most famous closeups in the history of cinema. Director Rouben Mamoulian created the shot by ordering a sliding piece of glass to change the width of the lens as the camera moved. Thus armed, he closed the 85-foot gap between Garbo and the camera, keeping her in focus throughout the shot.
"Have you ever heard of tabula rasa? I want your face to be a blank piece of paper. I want the writing to be done by every member of the audience." That's Mamoulian, quoted in Tom Milne's excellent book on the director. Here, Garbo is no longer a queen, but a woman boldly travelling into the world alone. It's an immensely exhilarating way to frame a tragic ending.
In 1632, Christina's father falls in battle. He's asked who he is, and he answers with his last words: "I was the King of SwedenÉ" Crowned as a little girl, Christina leads her nation as it enters the Thirty Years' War—between the Protestants and the Catholics.
The real Queen Christina, deemed "the Minerva of the North" for her intelligence, was an androgyne and perhaps a lesbian. This Pre-Code movie acknowledges that by the serious kiss Garbo gives her lady in waiting Ebba (Elizabeth Young). Out hunting, dressed in Three Musketeers era costume of giant plumes and cartwheel hats, Christina encounters the Spanish party arriving into her kingdom.
"Garbo Laughs!" claimed the posters six years later for the actresses' penultimate movie Ninotchka. She has a good laugh here, as well—over a stagecoach broken down in the snow, containing an irate Spanish ambassador (the Ian McShanish John Gilbert). The ambassador believes this passing traveler to be a lad. After they're forced to share a room at the crowded inn, the truth comes out.
There is farce here, just as it sounds. The edge of barbarism is visible in this Sweden, with outlandish furs and grotesque wooden folk sculpture, and huge Viking tankards. It's surprising to see so much historical sweep in what would be dismissed as a woman's picture today. The film includes a dangerous sword fight, and cloaked riders on horseback anticipating Mamoulian's later Mark of Zorro.
But it is Garbo's film. The brainy actress Hedy Lamarr once summed up the secret of glamour: "stand still and look stupid." Garbo's glamour isn't seen in stillness, but in measured, slow tempo. Mamoulian paced his actress with a metronome, as she silently pondered the bed-chamber where she's learned about love. She's a curator beguiled by strange artifacts, as some Debussian piano plays on the soundtrack. Then the memorable line: "I have been memorizing this room. In the future, in my memory, I shall live a great deal in this room." Later this scene is mirrored in a death scene Christina observes. She looks up, and then to the people around her, as if death, too, were a new discovery.
Garbo's own cinematic career would end eight years after this film. If it's hard to imagine being a royal who gives up her crown, it's easier to accept the all-too-real tale of a star dispelling the shadows following her on screen. "I'm tired of being a symbol," Garbo's Christina says, weeping on her throne at night. With its weariness, the face that tantalized the world signals its abdication to come.
Queen Christina
97 Min.
Unrated
Stanford Theater