Movies
Review: 'Ready Player One'
Hunting Easter eggs, a gamer becomes the savior of worlds in new Spielberg film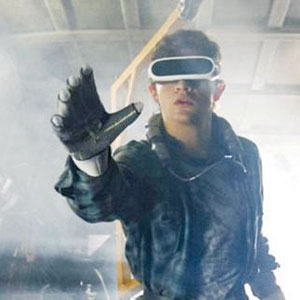 As the official bard to the court of King Reagan, Steven Spielberg may well look back at the 1980s as happy times. The 1980s-filia of Ready Player One is unsettling to those who don't consider that decade a paradise lost. From the numerous references in Ready Player One to Back to the Future, released in 1985—it's clear Spielberg considers this a particularly evocative film, a nostalgia trip that ends in the rewriting of history to make for a stronger, richer suburbia.
Others would consider the definitive piece of 1980s zeitgeist as the 1989 Batman, summing up the grief, squalor and expressionistic horror of the cities. Ready Player One is a semi-live-action version of The Lego Movie, and thus Batman turns up in glimpses—climbing the Himalayas, and later wiping out the 1966 Batmobile over a broken roadway.
Such are the conditions in The Oasis of the year 2044, a VR Imaginationland, a Where's Waldo game where they're all Waldos. Megagodzilla battles Brad Bird's Iron Giant from the 1999 movie, the stabby doll Chucky bursts through a windshield, and King Kong attacks. He's a fine Kong, the fastest Kong ever, popping up and smashing the roadway during a Speed Racer road race in which, among the participants, are the light cycles from Tron.
Before the game-master Halliday (Mark Rylance) died, he deeded The Oasis to whomsoever can find three hidden keys—"invisible keys in a dark room." This Willy Wonka-like challenge attracted Ohio's Wade Watts (Tye Sheridan), an orphan in an Ohio trailer park that's stacked up skyward. Wade named his avatar Parzifal in honor of the seeker of the Holy Grail. Inside The Oasis's games he encounters a famous avatar—an unnaturally big-eyed living anime called Artemis, actually a shy girl named Samantha (Olivia Cooke).
The Oasis is in danger of takeover by the loathed Innovative Online Industries, chaired by evil capitalist Nolan (Ben Mendelsohn). He's aided by his hulking enforcer, I-R0k (T.J. Miller), and his glamorous henchwoman, F'nale (the half-Norwegian half-Nigerian Hannah John-Kamen). These evildoers operate a debtor's prison/slave labor colony for those who've lost their money wagering on these games.
It's all based on Ernest Cline's popular novel of ideas—a few of the ideas are even Cline's own. It's standard young-adult material: the kids have substance, and the adults don't. There's an exception to that rule. If there's one bit of Ready Player One to be praised highly, it's Rylance's performance: as sympathetic a portrayal of the Steve Jobs type as seen in a movie. Halliday's voice is toneless—he's got the true Silicon Valley CEO's Asperger's diction. Before he passed on, Halliday distilled his entire life into digital dioramas that are studied by worshippers of the great man, all memorializing his fast food meals and the films he watched. It's an affecting study of ultimate emptiness.
Spielberg wouldn't be Spielberg if he didn't know how to make this galaxy of pixels alluringly strange, a wow-machine jampacked with cool stuff. One subrealm is a recreation of the Overlook Hotel from The Shining. It's hilarious when Aech (Lena Waithe), whose avatar is a jumbo robot, bears the brunt of the maze. Not knowing the plot of that scary movie, Aech stupidly presses the elevator button and is wiped out in a torrent of blood. The Overlook's bar has the extra twist of a zombie dance (one dead dancer winks, and out pops his eyeball).
The quest is said to be about love, but it's more plausibly about gain and career—of getting out of that single-wide trailer. What's here isn't as as lovely and troubling as the "San Junipero" episode of Black Mirror, with its quest for love through a quasi-1980s. Ready Player One isn't completely sexless—there's a glimpse of a wilder life, such as a No-Tell Motel set up in space like a restaurant in The Jetsons. And the final clinch could top the tiny listicle of "great kissing scenes directed by Spielberg." If at times one ends up uninvolved as this box of recycled toys is emptied out and shaken, it's the synthetic quality that leaves you cold sometimes: with all these avatars, it's like there's no skin in this game.
Ready Player One PG-13, 140 Mins. Valleywide