Movies
Review: 'Rocketman'
In new biopic, Sir Elton John hits the highest highs and lowest of lows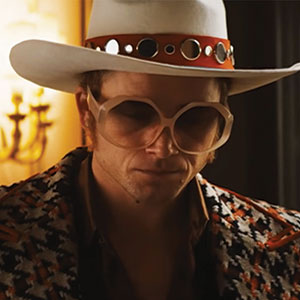 So Rocketman commences with Elton John (Taron Egerton) dressed in a pomegranate-hued devil costume, striding toward a circle of metal folding chairs. In recovery you're supposed to be anonymous. Elton is there to state his full name, and confess his polydrug abuse and sex addiction. The addicts hang on his words. One asks, "What were you like as a child?"
Not that question! A lonely prodigy in the London suburbs, that's what, complete with an ice cold dad (Steven Mackintosh), and straying, withholding mom (Bryce Dallas Howard in a role Gemma Arterton would have improved). Young Elton (Matthew Illesey) sings "The Bitch Is Back," not a song one associates with 10-year-olds, to a crowd of dancing 1950s neighbors in a cul de sac. This lost kid keeps returning for encores throughout the movie. Sometimes he gazes at his grownup self, wasted by drugs or wearing stage costumes that look, as This is Spinal Tap put it, like "some Australian's nightmare."
Director Dexter Fletcher, who took over Bohemian Rhapsody after Bryan Singer was fired, bills this as a "true fantasy." The fiction may be upfront—composite characters cannot sue—but it's awfully familiar. First, the new identity. A stage name taken from musician Elton Dean, and, here, John Lennon. British bluesman Long John Baldry, the actual source, and in real life the "someone" who saved Elton John's life tonight, is cut out of the picture.
The hungry years get their due, thanks to Stephen Graham as Dick James, a cigar-chomping Denmark Street manager. That's where young Elton meets Jamie Bell's lyricist Bernie Taupin. Bell is so appealingly understated that it would seem to have been a better idea to make Rocketman a bromance between an anguished, flamboyant performer and his no-drama mate.
Cue the coke, nosebleeds, cascades of pills, blackouts, yet another cold shoulder from mom and dad. Against this worn-out material, the live shows perk things up. The closest Rocketman gets to the appealing delirium it seeks is when Elton rises up from a show at Dodger Stadium in his blue rhinestone baseball uniform, flies into the air and hits a passing jet plane like a skyrocketÉ then coming to consciousness aboard the plane, flying to yet some other gig.
Gauche as it can be, Rocketman has its pleasures, with Elton and Bernie driving around LA as the pretty "Amoreena" plays, motoring up to a re-creation of that venerable LA music hall, the Troubadour, as it was in 1970-something. More evocative production design occurs at a Hollywood Hills party, where Bernie hurts Elton's feelings by diving into a mosh pit of hippie girls. Bafflingly, the incident is the alleged inspiration for "Tiny Dancer."
The arrangements lack the firepower of Elton's best live album 11/7/70. And the songs are out of timeline, so we don't see his development as a musician. As seen here, Honky Chateau seem to have been recorded after that unbearably twee megahit Goodbye Yellow Brick Road.
As Elton, Egerton has a voice close enough for memory's sake. But Fletcher favors tight closeups, making sure Egerton eats his heart out around an ever changing selection of novelty eyewear. He's sometimes a yearning Austin Powers, sometimes a crying clown. Like elderly performers, stage outfits are meant to be seen from 20 feet away. It's hard to feel the pain of a man when he's dressed like Papageno from The Magic Flute.
To its credit Rocketman isn't nervous about Elton's sexuality. One of Elton's best songs "Take Me to The Pilot" is dubbed over the first tryst between Elton and his new love and new manager John Reid (Game of Thrones' Richard Madden); the two can't get their pants off fast enough. "Honky Cat," with its pleasing New Orleans licks on a Fender Rhodes, is dubbed over the new couple's shopping spree.
Lest we forget, the road to excess is a toll road. Thus more declarations of suicide, an ambulance ride, and eventually a scary Studio 54 orgy with Village People clones. Elton tells his therapy group that he loved every crazy moment of it, but Rocketman won't buy that. Rock music trusts us to know what fun too much fun can be. Mainstream biopics may honor the flight paths of a star, but they always have to bring the story thuddingly to earth.
Rocketman
R; 121 Mins.
Valleywide