Movies
San Francisco Jewish Film Festival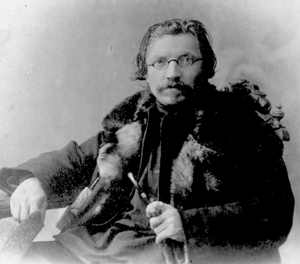 THE ELEGANTLY produced, enlightening and beautifully scored (by John Zorn) Sholem Aleichem: Laughing in the Darkness plays the South Bay wing of the San Francisco Jewish Film Festival on Aug. 3 at 4pm. (Additional films show Aug. 1-8 at the Oshman Family JCC in Palo Alto.) During an all-time high of intermarriage between Jews and gentiles, the question of assimilation plagues traditionalists. Humorist Sholem Aleichem (1859-1916) was among the first to tackle that question.
He was called the "Mark Twain of Yiddish." The parallels are strong. Both were writers worked under a pseudonym (Aleichem's means "peace be on you," the Jewish way of saying "hello"). Both had financial downfalls while searching for a big score in industry. Like Twain, Aleichem was also a journalist who worked feverishly and who wore himself out on lecture tours. Both writers, known for their levity, harbored dark premonitions of the future.
Aleichem's humorous, humanist stories made him one of the most popular authors in Yiddish, the poorly regarded household language of European Jews. (In fact Russian was spoken in Aleichem's household, and his children never learned Yiddish.) When Jews were escaping murderous Tsarist pogroms, Aleichem's stories of enterprising hustlers, milkmen and orphans considered how the Chosen could survive in changing times. Aleichem hoped and failed to be a success in America; on one night, two of his plays debuted in Manhattan. ("Feh"—Yiddish for "p.u."—was apparently the public's reaction to both.) After his death, Aleichem's fiction endured through the 20th century—even in the U.S.S.R. for a time—surprisingly more so there than in Israel, where Yiddish was hounded out in favor of Hebrew.
Some of his little-known known work is still to be discovered, it's clear, including "Glossary of a Step-Mother's Curses" and Tales of the 1001 Nights, a report of the proto-Holocaust conditions of the Tsarist persecution. Ultimately Aleichem will best be known as the source writer for Fiddler on the Roof. That musical's lyricist, Sheldon Harnick, is among the many interviewees in the film. So is Aaron Lansky of the National Yiddish Center, which has preserved literally millions of books in the dying language. Another is the ageless Bel Kaufman, Aleichem's granddaughter, who just turned 100 and is currently teaching Jewish humor at Hunter College.
San Francisco Jewish Film Festival
Aug. 1-8
Oshman Family JCC, Palo Alto