Movies
Short Cuts
The San Jose International Film Festival screens short films at Santana Row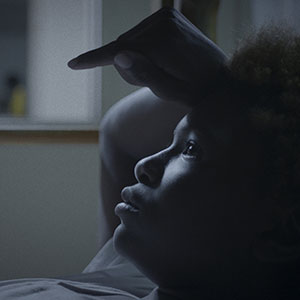 If there exists a perfect film, it's probably a short film. "There is no substitute for a ball struck squarely and firmly," sang Billy Bragg, and some 130 films at the San Jose International Film Festival seek that fast moment of impact. Here are just a few highlights.
Girl in the Hallway
A father won't read his daughter the story of Little Red Riding Hood for a good reason... He once lived in a bad Vallejo apartment just one deadbolt away from the street, and he knew Xiana Fairchild, a little girl who was one more victim of the wolves out there. Jamie Dewolf does the true-story narration. Dewolf is a slam poet, and a performer with the Suicide Kings. The intimacy of the midnight images of street people and weeping children fight Dewolf's big, made-for-the-stage performance: audience applause snaps us out of the fearful world Valerie Barnhart conjures, with her black on black oil pastel drawings and cutouts. It's a gut punch, but it might have had even more power if Dewolf had rerecorded his tale in the tone of what it's all about: a bedtime story.
The Orphan
Sao Paulo filmmaker Carolina Markowicz directed this story of young Jonathas (Kauan Alvarenga) who leaves the orphanage to meet with his new foster parents. It's a barbed and uncomfortable meeting for both; flashbacks reveal the reason why the boy was a reject back at the orphanage. It's more to do with just his disinterest for sports "All I do is cheerlead, and I don't even do that right." This award-winner is tender, but not so tender that it falls apart, and it's never overdetermined—it's built to leave questions.
War Paint
It takes bravery for a young filmmaker to do what Kubrick did definitively in Full Metal Jacket, but the gamble pays off in J.C. Doler's amazing short. It's about a young Marine's experience of the Vietnam war, seen in selfie-like full-face, during episodes of his time there. (Focusing on the face makes the mammoth expense of recreating the war cheaper too). Doler isn't just a sharp, imaginative director, melting the cliches of the war film through this focus on what it does to one soldier... He's also a very good actor—registering the choice of jail or war offered by a judge, listening to the recruiter's familiar lies, having his head shaved... all this before the shooting begins in earnest. The punch-line is remarkable, too..
San Jose International Short Film Festival
Santana Row
Oct 24-27
sjsff.com