Movies
Seven Psychopaths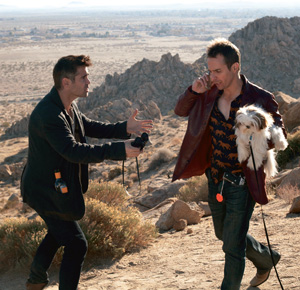 An alternative title for Seven Psychopaths could be Things to Do in Hollywood When You're Dead. From the opening shot of the Hollywood sign to the words "The End" on a page, Martin McDonagh (In Bruges) has created a film for an audience made up exclusively of aspiring scriptwriters.
Marty (Colin Farrell) is a blocked and drunk L.A. scripter whose manic pal Billy (Sam Rockwell), a sometimes dognapper, tries to feed him ideas about a serial killer movie to be called Seven Psychopaths. Billy's associate Hans Kieslowski (an excellent Christopher Walken) is the trustworthy elderly face of the lost-dog reward seeking. But he pinches the beloved Shih-tzu of a gangster (Woody Harrelson, the definition of "mannered" here) with a chrome pistol and a scorpion tattooed on his neck.
That's when the blood starts to flow in earnest, or as earnest as Seven Psychopaths gets. Working the short attention-span trade, McDonagh tries to make quick, manic-depressive changes in mood that don't convince even with the help of performers as grave as Walken, Harry Dean Stanton and a bunny-fondling Tom Waits. McDonagh's a phrasemaker, and there are likable moments and witty hard-boiled lines thrown away in the movie—bar talk mostly. And there are grains of ideas, such as the story of a Catholic ex-con being pressured all the way to the gates of hell, or of a Vietnamese gunman out for stereotypical revenge on the Americans who invaded his nation. But the sexism isn't ignorable, no matter how loudly McDonagh's characters protest that they're not ignoring it. Like the bartender in Desperado, two of the film's main women—Abbie Cornish and Olga Kurylenko—"get it worse than anyone."
Less like Reservoir Dogs than it thinks it is, Seven Psychopaths happily caters to the hypocrisies and compromises of commercial filmmaking while seemingly parodying them. Although there was nothing but sincerity in Jules' leave-taking of the way of the gun in Pulp Fiction, McDonagh can't reconfigure that grace note when he starts to honor peaceful passive resistance. Seven Psychopaths' lip service to that rare and peculiar kind of bravery ends up seeming like a new flavor of exploitation.
R; 109 min.