Movies
Review: 'Shazam!'
DC Comics brings back the comic relief with latest superhero flick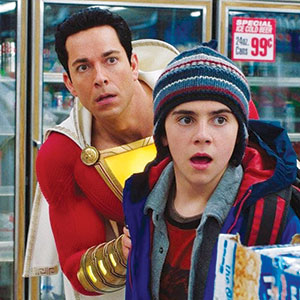 Mostly satisfying, often juvenile, Shazam! is a Christmas-in-Easter superhero origin story. It's December in Philadelphia. Young Billy Batson (Asher Angel) is brought via subway to a grotto wherein a dying wizard (Djimon Hounsou) dwells. He, Ancient Shazam, passes on the powers he has held for centuries, after a long search for a pure-hearted kid. (Billy, who has his sorrows as a foster child, comments, "I don't think there's anyone like that.")
When Billy utters the magic word "Shazam," a lightning bolt changes him into Earth's Mightiest Mortal: a hunk played by Zachary Levi, the Jewish prince physician on Marvelous Mrs. Maisel. This new Shazam is a novice superhero who doesn't even know his own strength, despite the coaching from his foster brother Freddy (Jack Dylan Grazer). The boy is a motormouthed reject who treasures a bullet flattened from the chest of Superman himself, complete with certificate of authenticity.
Why this figure is called Shazam instead of Captain Marvel, as he was in the 1940s, is a long and boring story of copyrights, easily explained on the Internet. The Swedish director David Sandberg brings a ponderous, antiseptic touch to this adventure with plenty of televisionistic bonding time between Billy and his new foster siblings. As the youngest, Darla, the charming Faithe Herman seems to model her performance on Sally Brown from the0 Peanuts TV specials.
Playing the evil Dr. Sivana, who pursues Billy in both his forms, Mark Strong goes harshly serious, and thus has neither the chuckling menace of the shrimpy bald nemesis in the comic books or anything to differentiate himself from other generic comic book villains lurking about. And he should have had more of a good time, seeing as he is all seven deadly sins wrapped up in one man. He can release the septet—smoky long-tongued monsters, covered in whirling pixels. ("I kind of thought Lust would be hotter," Shazam says.)
The wise-ass little kidisms here are fitfully amusing—in his adult form, Billy gets to do the things he'd always wanted to do, like buying beer and sneaking into a "gentleman's club." Ordered by the wizard to "Lay your hands upon my staff!" Billy chirps, "Gross!" Ultimately, one wishes there had been more bounce and less grit, more of the easy delightful stuff such as Shazam's saving of a plunging bus, where he ends up cheek to cheek with an almost-victim through the cracked windshield glass. Truly the most fun was the surprise appearance of one of the comic book's most ingenious villains, which takes place, appropriately for the season, in Easter egg form.
Shazam!
PG-13, 132 Mins.
Valleywide