Movies
Review: 'Spider-Man: Far From Home'
Facing a new evil, Peter Parker is forced to grow up fast in the latest Marvel installment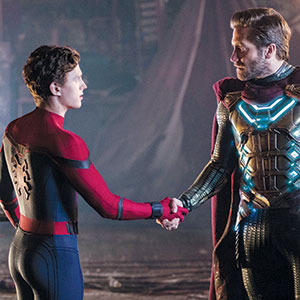 It's bot yet the Fourth, and audiences can already experience Summer Movie Leakage. Spider-Man: Far From Home commences with Nick Fury (Samuel L. Jackson) and Agent Maria Hill (Cobey Smulders) examining a trashed Mexican village. Was this the same town Rodan took apart in Godzilla, King of Monsters? In fact, it was a windstorm: "the cyclone had a face," Fury rumbles.
The giant wind beast returns and coalesces like a thunderhead, and out of the skies comes... a guy named Quentin Beck (Jake Gyllenhaal), a flying superman in a glass helmet, a denizen of a parallel Earth come to save our own.
Prior to the release of Spider-Man: Far From Home, it was considered a spoiler to name the deceased hero who went to his reward in Avengers: Endgame, the second most popular film of all time. Anyway, his loss hangs heavy over the film, and memorials abound. None are more clumsy than the opening, a high school video tribute with flickering candles and Whitney Houston's "I Will Always Love You" ululating in the background.
After this squire lost his knight, Peter Parker (the eager and charming Tom Holland) longs to be the 16-year-old neighborhood hero he once was instead of an Avenger. It being summer, he's slated for a school vacation taking in Europe's most decorative capitals. This'll give him a chance to court the brown-eyed and diffident Mary Jane; his comic relief buddy, Ned (Jacob Batalon), advises him to play the field: "We're American bachelors!"
Familiar teenage summer-vacation stuff ensues among the canals and the castles, with Curb Your Enthusiasm's J.B. Smoove and Martin Starr as the inept chaperones. Parker draws the attention of new mentors: good cop (Jon Favreau's Happy Hogan) and bad cop (naturally, Samuel L.) Off to Venice, Prague and London, each city ravished by an uninspiring kaiju, wrestled into submission by Spider-Man's new fishbowl-headed pal from the multiverse.
Would that the big plot twist arrived just in time, like Spider-Man himself. Longtime students of the lore will see it coming (though it'd be fun to watch the amazement of a nearby child). The movie finally gets some gusto with Spider-Man caught in a new kind of fight. He's psyched out, boggled by illusions, forced through a horror-maze of guilt and anxieties, and given an unexpected goodbye kiss... from a Thalys train travelling at 200 MPH.
The movie is full of things that don't get the emphasis they deserve. We hear how Aunt May (Marisa Tomei) rematerialized after Thanos' fateful snap: into the middle of what sounds like a bedroom farce. She describes the scene awkwardly at a public meeting, instead of letting us see it staged. We could have had a few more minutes with the ever-lissome Tomei. It's redundant to mack on her. She could swim in Lake Superior, and it'd still run dry before it slaked the thirst of every fan who wants to drink her bathwater.
As MJ, the one-named Zendaya continues a good impression of miffed, off-kilter appeal. She uses the defense of a good offense, which is the shield of every pretty and intelligent 16-year-old. But the dialogue reiterates the best moments in Spider-Man: Homecoming. She should have more eyerolls and less talk. To be fair, she endures no hair-ribboning—nothing like the making over of the odd girl Ally Sheedy in The Breakfast Club, no story of personal tragedy that explains her taste for the morbid. If a girl has a thing for Spider-Man, it follows that she'd be interested in spiders, snakes and other dark materials.
Spider-Man: Far From Home gives MJ even more agency during a final careen through Manhattan. It's not a girl's lyrical ride on a superhero's powerful shoulder, as it was in 2002, but a terrifying trip MJ vows never to make again. To his credit, director Jon Watts takes the odd route whenever possible; he basks in the fun of hanging with teen pedants smart enough to tell a spear from a halberd. Sometimes it seems Watts has an altar somewhere with a DVD collection of Freaks and Geeks on it, surrounded by candles and incense. Still, there's relevance to burn in Spider-Man: Far From Home's payoff in villainy that deals in distraction and deepfakery, with arsonists playing firemen, and smoke and mirrors.
Spider-Man: Far From Home
PG-13; 135 Mins.
Valleywide