Movies
Starbuck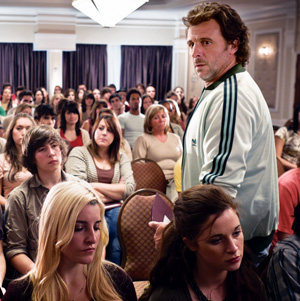 Better than it looks, the Quebec little-movie-that-could Starbuck isn't a disgrace to the cinema that produced Denys Arcand. Underneath some Big Lebowski riffs (such as the regular bathtub waterboarding of the hero by debt collectors), there's a warm if too fuzzy emphasis on the brotherhood of humanity, in which diversity is part of the spice of life. And there's certainly more regional flavor and low-down humor than there will be in the inevitable American remake.
David Wozniak (Patrick Huard) is a likable overgrown boy who drives the meat-delivery truck for his family's delicatessen business. His real focus, though, is the next money-making scam. The current deal involves raising several dozen droopy marijuana plants in his living room. Years previously, one of David's hustles was selling his semen at a sperm bank, which comes back to haunt him when some 142 of the children whose mothers he inseminated file a class-action suit to find the identity of "Starbuck"—David's anonymous-donor pseudonym.
Hiring a disbarred lawyer buddy (Antoine Bernard, similarly not a disgrace to the nation that produced John Candy), David tries to put a gag order on the clinic. That's when he finds out he's impregnated his sometimes girlfriend Valerie (Julie LeBreton), who plans to raise the kid on her own. His paternal instincts kick in, and he starts a new sideline as "a guardian angel"—stealthily observing the now grown-up children he fathered, helping them if he can.
Sometimes, Starbuck seems shaped like the pilot for a TV series. The best of these sub-subplots involves a girl with a needle-drug problem. An institutionalized son is severely afflicted, far beyond the point of speech: in the remake he'll be a merry Down Syndrome kid.
Valerie's part is criminally underwritten, part of a symptom of something we saw in The Place Beyond the Pines—that is, the insistence that only the father's influence matters, leading to a Dad ex Machina ending. Where are the mothers of this generation whom David herds like a tour guide? But there's a joie de vivre here, and a gift with improv riffs is visible when Bernard and Huard squabble.
Director Ken Scott's film has symphony-of-a-city qualities: the high and low life in Montreal, and a touching ending in a protected zone for subway buskers. This workable screwball comedy cherishes the lazy life.
R; 109 min.
Opens Friday, BlueLight Cinemas