Movies
Review: 'Suburbicon'
A little hamlet gets its 'Hamlet' on in this Coen-Clooney collaboration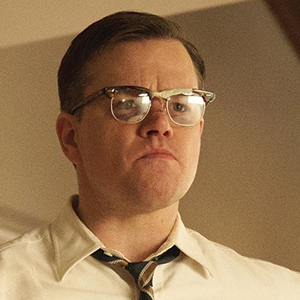 Chase two rabbits, catch neither; Suburbicon's title, poster, and advertising is puzzling, but a shaky first third yields to some tangy 1959-set melodrama in a shiny-new suburb named "Suburbicon," for some reason. The scriptwriters are, among others, the Coen Brothers. Their completionists will want to see this, and wonder what went wrong.
A sprucely uniformed postman delivers mail to the Meyers, the first black family in the neighborhood. He assumes that Mrs. Meyers, the lady answering the door (Karimah Westbrook) is a maid. We cut to the white denizens of Suburbicon gathering, mimicking integrationist rhetoric, as they foam about this crisis. ("We demand our civil rights... we shall overcome!").
At first, this storm has little to do with the immediate neighbors, the Lodges. Matt Damon is Gardener Lodge, a horn-rimmed-spectacle-wearing sap in deep trouble. His wife is Julianne Moore in a double role, or perhaps triple—the film was cut around a bit. His son Nicky (Noah Jupe, an excellent underactor, and strangely not the POV for the film from the beginning) gathers clues that he's in Hamlet's situation, after his mom is killed during a home invasion. The thugs responsible aren't through with the Lodges. Nicky's protective man-mountain uncle Mitch (Gary Basaraba, excellent in the John Goodman part) may not be strong enough to save them.
This, the bloodiest Coens script since Blood Simple, has languished in a drawer for a couple of decades; seeing a roster of actors who didn't make the final cut, one wonders if something far more ambitious had been planned (Suburbicon, as in The Decameron? Had the Coens planned to go full Robert Altman on this material?)
Going after the 1950s racists in the sub-plot is like beating a taxidermied lion, even if racism is as brazen now as it's been in decades. But the film noir material in the Lodges' plot survives. It's dark, taste-of-evil work, and if director George Clooney isn't quite as visually kinetic as the Coens, he has an admirably grim sensibility. Moore, always mesmerizing as a mid-century lady, is a real threat—both as siren and deceptively simple hausfrau. She outwits a snazzy, sharkey insurance investigator, played by Oscar Isaacs, serving him a little something lethal in a Franciscan Ware satellite tea cup.
Suburbicon
R; 105 Mins.
Valleywide