Movies
Review: 'Sunset Song'
This adaptation of Lewis Grassic Gibbon's novel follows a
Scottish farming family in the runup to WWI.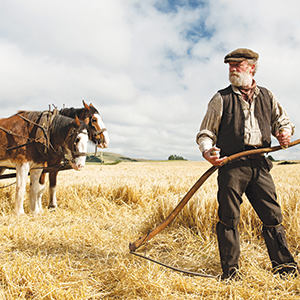 Terence Davies is a clear-eyed nostalgia artist specializing in the retrieval of the mood and the color of the past. Sunset Song, an adaptation of the Lewis Grassic Gibbon novel set a century ago in Scotland's Kincardineshire, seems like the culmination of his work. It functions both as a dreamy eclogue about farm living and as a war memorial.
The lean, tall Agyness Deyn stars as Chris, the daughter of a viciously dour father (Peter Mullan, excellent). Though the ardors of childbearing send Chris's mother to her grave at an early age, the place is a kind of paradise. There is dialogue about the struggle with the soil, but the soil doesn't look like it's putting up much of a fight. It's almost always golden harvest time, and the weather cooperates surprisingly for Scotland. There is hard work in this movie, but little in the way of squalor; the evil side of farm life is due to the father's iron will to domination. Later, Chris eventually enters into a romance of absolute picture-book bliss with a husband Ewan (Kevin Guthrie) who comes back soured and violent from the trenches.
Davies favors a theatrical approach that goes along with the stateliness of his composition: characters enter, stand, and state their business as they would in a play. And the singing of a chorus walking their way to church is too beautiful to believe...though Davies, as in his masterpiece Distant Voices, Still Lives, with its sparing and canny use of music, uses the hymn-singing to contrast with what follows when the congregation gets to church. There, they hear a saber-rattling war sermon by the preacher about how the nation deserves a "chastisement of blood and fire" for its sins.
Davies is sharp with dualities—the difference between the world of women and men, favoring the former over patriarchal tyranny and the military; the contrast of a paradise of the open air and land with the hell of war. Trusting our abilities to understand, Davies suffuses his film with compassion toward all. There's a great deal of feeling behind a toast to life: "Sing it. Cherish it. 'Twill never come again."
Sunset Song
R; 135 Mins.
Camera 12