Movies
Elle Fanning at Cinequest
Rising star will accept Maverick Spirit Award and screen new film, 'Teen Spirit'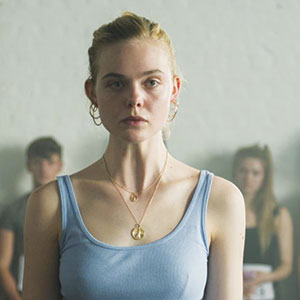 In 2013, when the Sally Potter movie Ginger and Rosa opened at Cinequest, I noted "Elle Fanning's face is the kind of instrument that comes along once in a decade, if that. Fanning is getting phenomenal."
The face—faraway eyes and firm mouth, full of character—strikes me as having some of the zen of the silent actress Dorothy Gish. (And like Dorothy, she's the sister of a noted actress herself.)
Elle Fanning's debut wasn't auspicious; at age 3 she played the young version of Sean Penn's daughter in I Am Sam (2001) wherein Penn played a mentally challenged man trying to adopt a child. Penn got an Oscar nomination, but the film is destined to be remembered forever as the subject of a four-word rule, as stated by Robert Downey, Jr. in Tropic Thunder (2008). Just as one loves too wisely and not too well, one can act too dumb.
But Fanning has been smart, and her poise has been remarkable for someone of her years. Consider the regret she brought to Super 8 (2011), where she played an Ohio steel-town girl pinched by sorrow, one of the better recreations of a '70s youth in a modern movie. She did it again in Ginger and Rosa, where she summed up an on-fire '60s rebel. She's capable of extreme, expressionistic acting, as in N.W. Refn's Neon Demon, where she plays an actress swimming in blood, murdered for the camera's lens.
Fanning has worked twice for Sophie Coppola: once as the good daughter of a badly-behaved actor in Somewhere, and once as a Civil War-era inmate of a girl's school in The Beguiled (the 18th century gowns just made her look all the more like Gish). Coppola is fascinated with entranced girls, like the Lisbon sisters in The Virgin Suicides, women possessed of a strange idleness.
The casting of Fanning in Maleficent as Princess Aurora seemed to compliment this sense of inwardness Coppola studied in her. The Maleficent sequel is coming up soon; meanwhile Fanning has gone from Sleeping Beauty to a sort of Cinderella. She breaks out as a musical star in Teen Spirit, the feel-good movie she's escorting to Cinequest.
It's the debut by second-generation director Max Minghella (who acted in Art School Confidential and The Social Network), Fanning is a girl from the Isle of Wight, who, despite obstacles, hits the big time as a singer covering "Dancing on my Own" by Robyn. Fanning is still very young—she turns 21 next month—and it'll be worth watching to see what she does next.
Elle Fanning Maverick Spirit Event
1pm, Mar 17
California Theatre, San Jose
cinequest.org