Movies
New 'Terminator'-Themed VR Experience Opens
Century 20 Oakridge gives patrons a chance to be the hero in their own dystopian film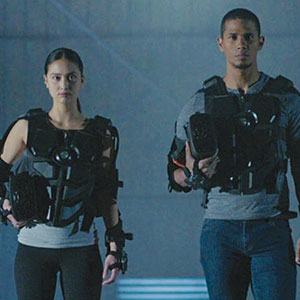 At top-tier amusement parks, often the cinema-augmented rides are a huge improvement on the movies they're based upon. Brendan Fraser's The Mummy was dumb kid-fodder, but the Revenge of the Mummy ride at Orlando's Universal Studios is hellaciously great, with giant plunges, deathtraps and flamethrowers. Sequels have combed out the thrills from the Terminator series, but the immersive VR debut for SPACES' Terminator Salvation: Fight for the Future, opening Feb. 8 at the Cinemark Oakridge, promises to bring back the excitement.
It's been playing in Orange County since last August, but this is the Bay Area debut of the SPACES installation. SPACES CEO Shiraz Akmal explains: "It's really immersive, really social entertainment that happens to use VR. No one else has done anything like this. This is going to be an experience that no first-time user will ever forget."
Viewers in small groups play together. They're scanned beforehand so their faces will appear atop the avatars. Then come the headsets, the gear and a short introductory explanation of the assignment. That's when the 12-15 minute long action commences.
Akmal promises a new sophistication in 'pathic' experience, the ability to touch the phantom objects in play, to smell smoke, feel mist and experience the shockwaves of explosions. "You'll be able to reach out and give each other high fives." After the scoring, participants get highlight reels of their imaginary adventure.
For those who'd rather not spend their time blasting Cyberdyne T-800 robots back to the robotic hell from whence they came, it's possible that there'll be more peaceful SPACES to come. The program can be changed. The attraction isn't semi-permanent, as in a theme park.
"The amazing thing with the spaces we're building is that they don't cost millions and millions," Akmal says. "We can bring them to neighborhoods around the world. But since San Jose is a leader in technology and innovation, we wanted to have the Bay Area's flagship location here."
James Meredith, the Senior VP for marketing for the nation-wide Cinemark chain has seen SPACES: "Gosh, it's fantastic—so many cool elements about it. You truly feel like you're immersed in another world." He notes that the adventure isn't just family fun; it could possibly be a lunch hour excursion, perhaps for team building. Visit the future, but be back at your desk by 1pm.
Terminator Salvation: Fight for the Future
Thru Feb 21
SPACES @ Century 20 Oakridge
cinemark.com/spaces