Movies
The Best Films of 2019
The Oscars are just over a month away—time to get caught up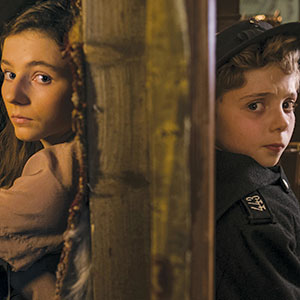 This year's best movies were heavy on stories of the immured (Parasite) and the entrenched (1917). In 2019, even Captain America said, to hell with this, I'm heading for the past.
In Jordan Peele's eerie parable Us, America isn't just rich and poor, but the Influencers and the Influenced. His story of the hordes in their government-funded version of Plato's allegorical cave isn't easily picked apart. Yet it does merit space next to the business of the grateful, kowtowing subterranean lodger in Bong Joon-ho's uproarious Parasite—a movie composed with a perfection that rivals Hitchcock. Bong's film takes place in such a complete Yankee colony that there is little to be changed if they must to do an American remake. (Shoot it in Houston, where grotesque wealth and flood-plain hovels sit side by side).
Captive State demonstrates what a real occupation and a real resistance looks like, with alien overlords dwelling in their own cellars (they rule us from underground because they can't bear our stench). The Great Hack was another type of horror story—one of rats in the walls. It's a terrifying documentary about the kind of social media manipulation that topples governments.
An escape from the present, Once Upon a Time... in Hollywood is not like the other films on this list. It is not just edgeless nostalgia, a fantasy of wide open spaces, but an irreplaceable vision of LA as a mecca that distingerates under people's feet—a "slide area," to borrow writer Gavin Lambert's phrase. It's the glittery version of that other, towering 2019 epic: Martin Scorsese's masterful vision of the blandness and crookedness of mid-century America, The Irishman.
HBO's The Watchmen, which would have been on this Top 10 list if it were a movie, also effectively imparted the feeling walls closing in—the bunker-dwelling Looking Glass (Tim Blake Nelson) is similar to the entombed prisoner of Gotham, Arthur Fleck in Joker. The Watchmen also parallels The Irishman in the way it sums up a decades' worth of defective history, ignoring what ought to have been taught.
Jojo Rabbit took its own liberties with history, presenting moviegoers with an alternate version of Anne Frank. Maybe it's a measure of the shocks we're enduring that the funniest movie of the year had the gallows in it. One feels a little cheap awarding Waitit's robust film precedence over Terence Malick's ode to ultimate Nazi resistance, A Hidden Life. The latter is one the most beautiful advertisements for martyrdom ever made. Malick's images of the peace and beauty of farming in the Alpine foothills left nothing to be desired. As an interminable vision of moral stalwartness it recalled the Mark Twain quote: "Few things are harder to put up with than the annoyance of a good example."
By contrast, Robert Eggers' glorious black and white The Lighthouse is lighter, in a dark horrible way. It's based on the lovely old Down East joke with the punchline, "Oh, don't dress up. There's only going to be the two of us." Here a sordid and flatulent old lighthouse keeper (Willem DaFoe) and the young pup (Robert Pattison) are trapped in their own phallic prison. Made by one of the last directors who really seems to read, it was one diabolical mindbender, teasing the opposition that attracts. Whether we like it or not, in the lighthouse America, the real battle isn't between us and them—it is simply between us.
Rounding out this list of the year's 10 best films is a runner-up, Midsommar. It's annoying that people thought the Suspiria remake, which I loved, was so artsy when this celebrated melding of Matthew Barney and Herschell Gordon Lewis was really all about its look, its processionals and spiral dances. Ari Aster's genius is in the arrangement of gorgeous corpse-tableaus. This could be the popular new art style of the coming century, and one can imagine the New York Times Magazine pictorials already. Still, all props to the acuteness of Florence Pugh in her ability to sound out the depths of despair.
Little Women, Godard's The Image Book and The Kingmaker are all noteworthy.