Movies
Review: 'The Big Sick'
Holly Hunter shines, while cross-cultural love story tests Kumail Nanjiani's chops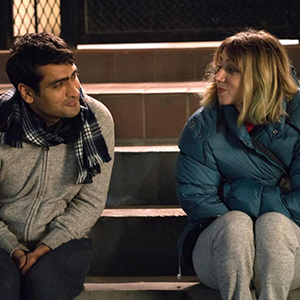 Boy meets girl, girl meets ICU: the Judd Apatow-produced The Big Sick tells the story of a cross-cultural romance between Chicago standup comedian Kumail (Kumail Nanjiani of HBO's Silicon Valley) and psych student Emily (Zoe Kazan). They have their meet-cute after their first hookup. Emily, trying to keep the evening no-strings, calls for an Uber ride to go home, and Kumail's cellphone goes off in the bed next to them, since he's the closest driver.
The trysts continue, despite Emily's insistence that she's not looking for love. Kumail finds out this young girl has already been divorced. Emily finds out Kumail is expected to marry a Pakistani girl in an arranged marriage. At every family dinner he attends, various lovely and marriageable women drop by, thanks to the guile of Kumail's mother (Zenobia Shroff). After Kumail and Emily break up, she falls ill and is put into a medically induced coma.
This romance isn't as barbed as Philip Roth's controversial character Alexander Portnoy, who describes the sort of smothering mom who phones 20 times during the course of a night. The Big Sick is made as if Kumail's parents were looking over the co-writer and star's shoulder. Kumail isn't supposed to be that good of a comedian—though the movie tells us the reason why is that he hasn't been tempered by suffering, and that he also performs as a Pakistani and not as a person. Still, one of his routines is about a piece of toast, and that says it all. In the heavier scenes Nanjiani looks desperate, out of his depths as an actor.
Emily's parents arrive halfway through, and that brings The Big Sick to life at last. Ray Romano is very funny as a hulking, clueless dad; Holly Hunter is his wife, who has a feral streak and a hillbilly accent. Hunter corners the film's physical comedy, pouncing, with fists out, at a frat boy who tells Kumail to go join ISIS. She's frisky during a night of drinking, assuming a knees-up yoga pose right next to the starchy Kumail. There's not a scene she doesn't steal. Director Michael Showalter's limp ring mastering never seems to catch up with Hunter and Romano's comedy; he's bigger on moments of sentimentality than in the chemistry of lovers, or on the grit and acid that makes standup so exciting.
The Big Sick
R, 119 Mins.
Valleywide