Movies
Review: 'The Gentlemen'
There's plenty of wordplay but no bad bastards in Guy Ritchie's latest gangster flick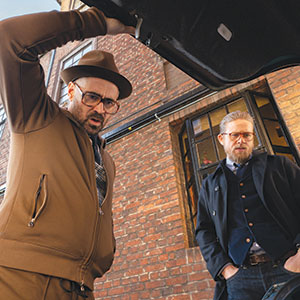 If we are to believe the evidence presented in The Gentlemen, England is facing a serious shortage of bad bastards. In director Guy Ritchie's Lock Stock and Two Smoking Barrels (1998) and Snatch (2000) London seemed to teem with bad bastards of every variety. They had leg-breaking bad bastards. They had knife-scarred bad bastards.
They had bad bastards that looked like ambulatory brick walls in tweed caps, storming in, demanding to know what c-word had dared to interrupt afternoon tea.
Lock, Stock co-starred Lenny "The Guv'nor" McLean—6 feet 3 inches of furious cockney—a bare-knuckle fighter who spent 18 months of his 49 years of life in jail for GBH. Grievous Bodily Harm, that is. It's the term the bobbies use to describe the aftermath of a frank exchange of views in an alley. Where do you find a face like McLean's? Look for it in vain here. Instead, we're given Matthew McConaughey—displaying the kind of loftiness that comes from making it big in luxury-car commercials—wandering around as grave as a belted ear. He's waited on by Sons of Anarchy's Charlie Hunnam, who looking vaguely depressed in specs and a sweater.
One night, Fletcher (Hugh Grant) invades Ray's country home. The latter is the consiglieri of Mickey Pearson (McConaughey), Britain's biggest marijuana grower. Fletcher has a file on Mickey, who is attempting to fold up his business and go legit. The presses will be rolling at the Daily Print shortly, exposing Mickey to the world. But Fletcher could catch, and kill, the story for a blackmail payment of £20 million.
In flashbacks we see how Mickey almost sealed the deal with a gay Jewish-American millionaire (a supercilious Jeremy Strong); complications ensue when his previously airtight business springs a leak. A crew of thugs raids one of his subterranean weed-farms, then viralize a "fight-porn" video of their battle with the guards. And the lack of serious bad bastards shows once again. This gang, dressed in plaid tracksuits that must have cost a lot more than they look, are called ''The Toddlers." And they wouldn't put the scare into the hero of a YA novel. Among them is real-life rapper Bugzy Malone, who, let the record show, took his stage name from a movie about kid gangsters shooting each other with whipped cream.
Ritchie's problem is that he has about a pint of movie sloshing around in a gallon jug. All the sidebars and word-bandying among the all-male cast don't expand upon this story satisfactorily. The Gentlemen's only lady is Mickey's wife, a sort of an honorary guy played by Downton Abbey's Michelle Dockery; frozen-faced, she totters on heels that are far more cruel than this movie's script.
Ritchie is into stereotypes: the gay guys who keep trying to put their hand on your thigh, the Chinese—particularly a squandered Tom Wu—who ought to be interested in parables because of their race. As the scummy tabloid editor who likes to itch his hemorrhoids in staff meetings, Eddie Marsden has never had a worse part. Moreover, he ends up in a revolting situation that Ritchie might have found lying around loose in an episode of Black Mirror.
Ritchie is trying for trans-Atlantic appeal—the story is that Mickey came to England because he'd gone from the trailer park to an Oxford scholarship. Unfortunately, this story seems lost and adrift in the middle of the ocean, with slang that comes from nowhere. The cannabis here is referred to as "Weed! Bush! Skankamola! White Widow Soup and Cheese!"
Beyond the fact that a few characters end up on ice, The Gentlemen gives off a whiff of freezer burn. One fight and shootout sequence takes place outside a wholesale fish market. With a sinking feeling, you realize that this well-scrubbed warehouse, smaller than a Costco, is Billingsgate. Once it was the most famous swearing academy in the English-speaking world: a place that gave the dictionary a term for verbal abuse. Now it's just there as a backdrop for Matthew McConaughey talking to his succesors about the importance of being a boss, the king of the jungle. Where are all the bad bastards of yesteryear?
The Gentlemen
R; 113 Mins.
Valleywide