Movies
Review: 'The Goldfinch'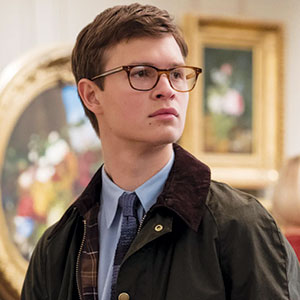 Such is a novelist Donna Tartt's skill that she found a way to refresh the horror and disgust of Sep. 11 via an imaginary attack. Around 2001, a right-wing mad bomber strikes the inner chambers of the Metropolitan Museum of Art. Vanished in the ashes is a small painting (c. 1650). It possesses the same kind of romance as a Vermeer—a rendering of a sad, tame goldfinch, tethered by a golden chain. Missing and presumed destroyed forever, it's actually in the possession of young Theo (Oakes Fegley) whose beloved mother died in the bombing.
Preparing for his suicide in an upscale Amsterdam hotel room, Theo (played as an adult by Ansel Elgort) flashes back on his guilty life. Fostered with an upper-class family—the kind of people who put their children in suits and ties at age 8—Theo is a poor relation of sorts. Yet he thaws the chilly mother of the family (Nicole Kidman) and bonds with the witty, wry youngest (standout Ryan Foust).
Suddenly, Theo is whisked away to a strikingly desolate part of Las Vegas with his gambling father (Luke Wilson) and his worthless spray-tanned girlfriend (Sarah Poulson). Then: to the atelier of a warm old Dickensenian craftsman (Jeffery Wright) in Manhattan who trains him in the way of the antique.
Emptied by grief, Theo grows into a sort of replicant: three-piece-suit wearing and poreless, with a job peddling dodgy colonial furniture. Enter the supercilious blackmailer, Denis O'Hare, who knows all of Theo's secrets. The villain describes Theo's furniture as "Frankensteins," since they're cobbled together from various sources. Roger Deaken's photography is rich, but it's not a putdown to say The Goldfinch itself is Frankenstinian. Here are elements of Great Expectations joined to Ripley's Game with some Arthur Miller at the finish. Mostly the film copies Dickens' approach to mysterious bequests, lifelong guilt and sudden reversals of fortune, in a sprawling tale that John Crowley (of Brooklyn) keeps engrossing, but never completely convincing
Handily stealing this wayward movie: Finn Wolfhard as Boris; a hawk-nosed goth from the Ukraine who holds up a black parasol to the Vegas sun. Wolfhard is so good looking that directors naturally think of him for uncanny roles (It and Stranger Things, so far). Just as it's highly likely Wright will soon be taking over for Morgan Freeman, so it seems Wolfhard will be taking over for Johnny Depp. Wolfhard's common-sense and alertness for opportunity combats The Goldfinch's tendencies towards WASP starchiness; for example, the treasure Theo should have cherished turns out to be a civics textbook.
The Goldfinch
R; 149 Mins.
Valleywide