Movies
Review: 'The Phantom Thread'
P.T. Anderson delivers one of his best films with help from Daniel Day-Lewis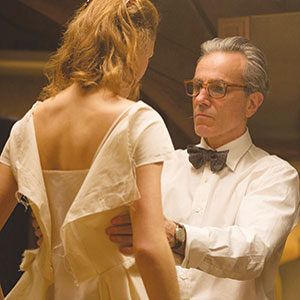 If the job of a film is to immerse you into another world, its customs, its music, its glitter and its rottenness, Paul Thomas Anderson's The Phantom Thread fulfills its mission beautifully. It's worth the journey to San Francisco or elsewhere to see it in 70mm, to admire the texture of Anderson's version of the past, using location work rather than digital images.
There hasn't been a film in a long time—1989's Scandal might be the last—that conjures up the underside of post-war English luxury. Here it's a nation balanced between a pair of shocks—first, the trauma of World War II, and second, the youth rebellion of the early 1960s. Soon will come the Beatles and their kind, all refusing to take these stiff courtiers as seriously as they took themselves.
The antagonist, Reynolds Woodcock (Daniel Day-Lewis), is a real stick insect, the kind of arrogant, solitary man they used to call "a confirmed bachelor." He's a celebrated designer who lives with his formidable sister Cyril (Lesley Manville); her main attribute is a pair of half-glasses that she stares through at her social inferiors. In Shakespeare's phrase, the springe [trap] to catch this Woodcock is a waitress of mysterious Germanic heritage, whom he encounters one morning at a seaside café. Charmingly clumsy and with an uncontrollable blush, Alma (the Luxembourger actress Vicky Krieps) notes down Reynolds' immense breakfast order. Then she gives up her requested phone number, dedicating the note "to my hungry boy."
At the beginning flash-forward, Alma shows off a satisfied, plush-lipped smile, as she tells a friend about how she pleasured this exacting man by giving him every part of her. In truth, the sex is all in the glance. The scopophiliac tease in the trailer of this film is the shot of an eye peering into a spy hole. This turns out to be the eye of a boss surveying the work of a squad of elderly seamstresses. What Anderson sums up is neither voyeurism nor (Inherent) English Vice—seeing how tightly wound Woodcock is, you expect him to bring out the paddle or the riding crop. Reynolds is a workaholic, and his obsession with his designs and his fabrics tunes Alma out. Her loneliness is much to the satisfaction of Cyril, the dragon sister with her man's name.
Anderson claims that The Phantom Thread is a gothic tale—like Jane Eyre's Rochester, Woodcock is made to falter, rising to love a woman loyal enough to survive his scorn. And it's like the dynamics in Rebecca (1940) with Manville as the Mrs. Danvers character. The perverse difference is that Alma finds a way to bring Woodcock low, and it's not through her sterling character—it's via her desire to be the nursemaid of the immobile man. We have signs of Woodcock's tenderness—he's haunted by the stock-still ghost of his mother, and the hollow voice sounds like he's in the grave already. Anderson violates Day-Lewis's interesting terseness by allowing him to improvise away when he rages, to repeat himself and to swear; as in the final bludgeoning scene of There Will Be Blood, we're watching Day-Lewis spin his wheels.
Jonny Greenwood's superb score of lush jazz—reminiscent of John Dankworth and John Barry—suffuses the movie. The settings are fascinating, slightly alien: the Wedgwood-like plaster ornaments in the halls and the embarrassing wedding between Woodcock's large, drunken aunt and a younger fortune-hunter modeled on Porfirio Rubirosa. The film caps with a phantasmagorical New Year's Eve celebration—like Baz Luhrmann, only in good taste.
Despite Anderson's distractingly clumsy tale-telling, the film is one of his best. This kind of romance gives him less plot to trip over. Day-Lewis has aged strikingly, with his aquiline profile and widow's peak—if he were a hack, he could easily play either Dracula or Sherlock Holmes. But we know very little about Alma, less about her than any gothic heroine who could be named. We're not even sure about Alma's accent or where she came from. Day-Lewis represents some glowering male principle of obsession and possession—yet Krieps' Alma seems to win this struggle because she represents only herself.
The Phantom Thread
R; 140 Mins.
Valleywide