Movies
The Way, Way Back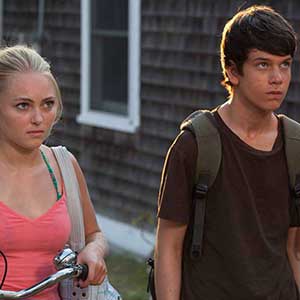 It's hard to see what The Way, Way Back demonstrates more than Fox Searchlight's still-unmatched skill at rolling out a little movie. Writer/directors Nat Faxon and Joe Rush's film is a puzzling mix of Meatballs and '70s loco parentis drama, with authentic loco parents. It's unstuck in time, from the very arrival of a 40-year-old station wagon full of angst in a 2013 movie.
The Way, Way Back is a movie that tries to be all things to all people, which may explain its terrific word-of-mouth. But it seems adrift from the first 20 minutes, when Faxon and Rush unveil too many characters to process. All meeting at a Cape Cod beach house: newly divorced mom (Toni Collette), her stinky, car-peddling boyfriend (Steve Carell at his most wormish), wacky drunken neighbor (Alison Janney) and the upset 14-year-old Duncan (Liam James).
The biggest problem with Faxon and Rush's script for The Descendants was the unimpeachable trustworthiness of George Clooney's narration. They're witty writers, but Faxon and Rush face the same problem here: The Way, Way Back is completely behind its young hero. It finds the partying adults' behavior as disgusting as Duncan does. If James was making a breakthrough performance, we might go along with this caricaturing. But his Duncan is inert not wittily subversive; he isn't flawed with any of an adolescent's common problems except the most forgivable one, shyness.
There are shades of Adventureland, with its healing amusement park: Duncan is rescued by Owen, played by Sam Rockwell, in one of the two or three tastiest parts he's ever had. Owen is the Bill Murray-like manager of a water slide park called Water Wizz, and he's so debonair that he wears an ascot with an aloha shirt. Now manned-up with a positive role model, Duncan is capable of a half-written romance with the nextdoor neighbor girl (AnnaSophia Robb) which mirrors Owen's unresolvable relationship with his co-worker (Maya "The Ever-Pouter" Rudolph). But how interested is The Way, Way Back in the man-woman thing? When the elder man and the young kid bond, it gets so wet and slippery it's no surprise Duncan keeps his summer job at the park a secret from his mother.
PG-13; 103 min.