Movies
Review: 'The Wife'
Male egos and the Pulitzer Prize are fodder for a sappy soap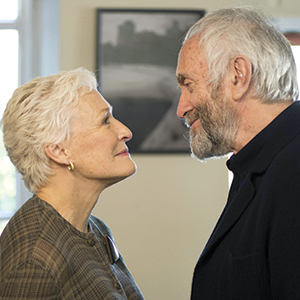 The fantasy sold in The Wife is one of winning the Nobel Prize for literature, and at first, that's fun. The old literary lion Joe Castleman (Jonathan Pryce) and his wife Joan (Glenn Close) are sleepless when waiting for the early morning phone call. Soon comes the comically Scandinavian-accented news, and both are jumping on the bed in happiness.
It's 1992, so they take the Concorde to Stockholm in winter. But Joan starts to display passive resistance to the ceremony, the hobbing and the nobbing, the bowing and drinking. Thus, into a nest of flashbacks about the way she choked her dreams and subsumed everything to the man she married, bearing his terrible secret.
Director Bjorn Runge's scolding tone suits our age of the exposure of dickweilding artists in all fields. And it's very good to have Glenn Close back. She's poised as she simultaneously flirts and fends off a literary parasite played by Christian Slater. (He's so dangerous he's even named Bone.)
Pryce has been distinguished as everything from to the dreaming schmendrick in Brazil to a puffy-pants clad Timon of Athens to one of the best late-period Bond villains. But the Norman Mailer/Saul Bellow type is beyond his ken; Brooklyn and Jewish he isn't, and his accent flickers. Moreover, Harry Lloyd, who plays Joe in 1950s flashbacks, doesn't match the old man he becomes.
Castleman displays quirky habits when he's out philandering, like personally autographing walnuts and reciting the last paragraph of "The Dead" by James Joyce. But The Wife doesn't seem informed about the literary life, as when Bone tries to lure Joan into a Stockholm bar by saying that it was the kind of place where Strindberg would drink. Is Strindberg the name to drop when you're trying to charm a literate married lady?
What really pushes The Wife off the edge is one corrosive scene with Elizabeth McGovern, as a bitter novelist who goes around discouraging women from writing, because she's been poisoned by the male egos around her. The Wife says: if you persist, you'll be crushed, and if you take on the rewards of being a wealthy writer's wife, you'll also be crushed. What makes The Wife insufferable soap is the masochistic insistence that the men are all crushers, and that that's all that's possible for them to do.
The Wife
R; 1hr, 40 Mins.
The Guild, Menlo Park