Movies
To the Wonder
A man. A woman. A horizon line. Terrence Malick's To the Wonder looks wonderful but plays strange.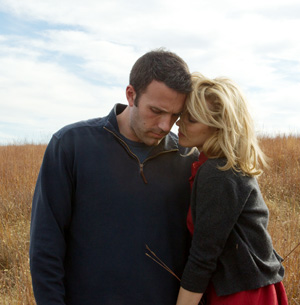 Exasperatingly beautiful, Terrence Malick's lesser followup to his monumental The Tree of Life continues that great film's indirect, simple storytelling. In To the Wonder, Malick conceives of the friction between a man and a woman as an alchemical conflict of air vs. earth.
The film is a woman's version of that line in Nicholas Ray's In a Lonely Place: Marina (Olga Kurylenko) is born when Neil (Ben Affleck) kisses her, her life taking place between the emergence of the Eurostar from the dark Chunnel and a final departure down the darkening corridor of a jet bridge at the airport. Marina is a blithe spirit, whose love for her man is love with a capital L. Without reservations, she makes the sacrifice—trading Paris for northern Oklahoma to be with him.
Can this overpowering spirit of Eros be contained by a Ben Affleck character? Neil hails from Oklahoma (no one ever suggested Oklahomaism in Ben Affleck before); he has unfinished romantic business with a childhood sweetheart (Rachel McAdams). Since Marina is there to be in love and dance her way into reveries, maybe it would have been more interesting to see more of Neil at work—not that he ever discusses his job with her. He's a traveling EPA investigator, checking for chemical runoffs and contaminated air and groundwater.
At one point, Malick has a character say, "In a dream, you can't make mistakes." Putting Affleck's silhouette against the luminously photographed locations works, as does showing him in a truck surrounded by a grave, slightly ominous herd of bison.
The locations include the prairie and a housing development on the edge of forever, with a halo of blue on the horizon—the vast skies with their slices and scribbles of contrail deserving to be seen in widescreen. Do it fast, because To the Wonder is too strange a movie to stick around in theaters.
Affleck cuts a fine silhouette—it's when Malick gets closer to the character that the trouble begins. And with all his rapture over the female principle (if Kurylenko is cast for her shape, at least it's not a vulgar shape), Malick can't muster a similar enthusiasm for the male. Let's face it, the man prefers women.
Neil can be a partner in Marina's essential childishness—the bliss to which the title refers—when they bounce, as if on trampolines, on the waterlogged sands at the foot of Mont St. Michel. What finally happens is what's called in vaudeville the Apache Dance—choreographed turbulence, tossings to the floor, a withholding male and a woman so airy she's airy-fairy. But Affleck is one tough guy who can't dance, with his unmussable hair and the ducky-looking old-school tattoos on his shoulders.
If you have the ability to ignore Affleck, To the Wonder is a visual stunner, with a surprising transcendental enthusiasm for everything. When the camera coasts in over the polished wood floors of a 3,000-square-foot tract house, the shot is as reverently done as if we were gliding through a chapel. The bounty of a supermarket is exclaimed over and danced through.
But on the other side of the line, we get a sting of sadness visiting the poor part of town full of 1950s one-family houses that look so much like the summer streets in Tree of Life; now, 60 years later, they look splintered and poor.
There's a perfectly turned subplot counterpoint of a heartsick priest (Javier Bardem) trying to fake his faith into life. And his duties are arduous: deliverance of Holy Communion to the prisoners at the Osage County Jail. Putting his fingers into these mouths with the host is a test of faith in itself.
In the old houses turned into shanties, the priest visits the poor people wasting away, displaying their bullet wounds, some half-intelligible from madness and disease. There's a "Humanity Unit" credited at the end (this would seem to be the most necessary job in the cinema industry today), apparently hired for arranging the connection of the cast with these suffering people playing themselves.
"The movie-loving flesh is weak," said Graham Greene, and an entire movie about this priest's troubles would have induced squirming. Being the best actor in the film—turning out a portrait of a priest that you could put next to Bresson's Diary of a Country Priest—Bardem keeps the subplot from being a minor part of the film, whose point is that divine love is just as withheld as romantic love.
112 MIN R