Movies
Jimmy Stewart & 'Toy Story 4'
The contemplative American cowboy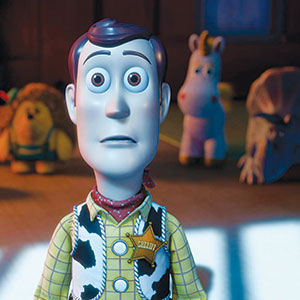 The solitary figure of the cowboy—hard bitten, with a lonely job to do. Whether he's embodied by the flawed westerners Jimmy Stewart played or a talking cartoon doll named Woody (voiced by Tom Hanks, today's answer to Stewart), the attractiveness of this stalwart character never fails.
The Man from Laramie (1955) and The Naked Spur (1953), two of the best westerns Stewart made, are screening at the Stanford Theatre. In the former, he's a hired hand on a mysterious trail of vengeance; in the second, he's a manhunter, whose latest prisoner (a diabolical Robert Ryan) may be his last. As visually rich as they're morally complicated, these are two examples of the war-seasoned star on his way to the lethal honeytrap Hitchcock had waiting for him in Vertigo.
Toy Story 4 has the wings and claws of a great melodrama. Nobody today can drill into childhood trauma like Pixar. In this conclusion, Woody is a man out of time, obsolete and relegated to the dusty closet. He salves his dignity by protecting a tenderfoot toy his kindergarten-age keeper Bonnie made out of a plastic spork, with pipe cleaner arms and googly eyes. Forky (Tony Hale), who longs to return to the garbage from which he came, is a flight risk. During a family RV vacation, he gets loose.
Woody tracks Forky to a tourist town antique store, a fortress run by a damaged 1950s baby doll called Gabby Gabby (a remarkable performance of neurosis and loneliness by Christina Hendricks). This queen bee is protected by a mute goon squad of ventriloquist dummies. Coming to Woody's aid is a guerilla band of freed toys living in the wilderness of a city park, led by an old friend—once just a cute porcelain adornment for a little girl's table, now a wild woman with the skills of a general.
Usually, today's movies aren't built nearly this well, with Hans Christian Anderson scariness and brash humor, as in the Looney Tunes-worthy sequence of a pair of fluffy yet shady carnival animals plotting to mug a little old lady by giving her "the plush rush." The movie always acknowledges the uncanniness of talking toys. The engineering of fright, laughter, chases and sweet relief is fantastic. Yet this film's roots are solidly in cowboy dramas, in the conflict of freedom vs. solitude, of civilization vs. a wild frontier.
The Naked Spur
The Man From Laramie
Jun 21-23
Stanford Theatre, Palo Alto
Toy Story 4
G; 100 Mins.
Valleywide