Movies
Preview: 'Two-Spirit Powwow'
Documentary by Santa Clara alumnus focuses on LGBTQ American Indians in the Bay Area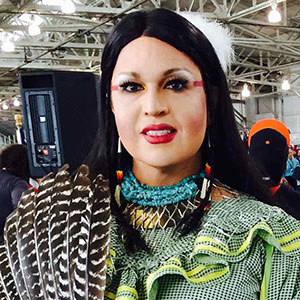 The new documentary, Two-Spirit Powwow, observes an annual LGBT-friendly gathering in San Francisco. People who read Thomas Berger's novel Little Big Man probably know the term 'two-spirited." The word is most commonly used to describe American Indians within the LGBTQ community.
Although two-spiritedness has been forever a part of Native American life, today's reservations are hard places to come out. The growth of evangelical Christianity within these close-knit, conservative communities make it difficult—hazardous even—for an individual to openly express any deviation from heterosexuality here. Sadly, some find it easier to take their own lives.
In Two-Spirit Powwow Emmy-winning producer and Santa Clara University alumnus Rick Bacigalupi profiles the Bay Area American Indian Two-Spirit (BAAIT) gathering at Fort Mason, which anticipates about 5,000 attendees in February.
The interviews here include Sheldon Raymore, of the Cheyenne River Lakota Nation, who describes his mother's reaction to his coming out: first rejection, then, years later, acceptance. The facially tattooed Tongva-Ajachmen L. Frank Manriquez is the first woman to become the Powow's emcee.
While there are certain sacred ceremonies at the pow wow, which Bacigalupi declined to film, we do see the meetings to discuss how the event proceeds—the usual protocol issues that emerge when you get a lot of different people together. Much of what he captures is standard pow wow fare, such as dancing and the sizzling fry-bread. Some things are new, such a female drummers, the Turtle Nation group, who irk those who believe drumming is a male prerogative.
On the one hand, regalia is never to be called a costume—it is traditional clothing, even when brilliantly bedecked in rainbow colors. On the other hand, BAAITT has a 'duct tape' contest wherein dancers make up impromptu regalia out of cardboard, paper and whatever else is laying around. Then they twirl around in it to test the willpower of the "Stoic Indian" contest participants, who are trying to keep a straight face like the guy on the buffalo nickel.
While versifying during the drumming competitions is a feature of the pow wow circuit, the verse here is more site- specific ("He said he was straight, but when it got late..."). Out for Native American Heritage month, this documentary is good news for a change. The ambient joy at this gathering is a pleasure to watch.
Two Spirits Powwow
Unrated, 45 min.
Nov 19, 9pm, KRCB-TV
Nov 21, 12pm, KRCB-TV