Movies
United Nations Association Film Festival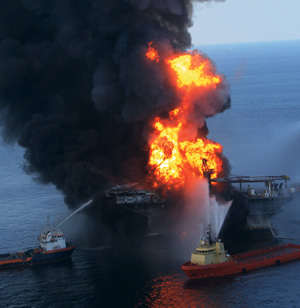 DARYL HANNAH'S pale yet leonine force enlivened '80s film. She's best known as the killer replicant in Blade Runner, with the airbrushed raccoon mask of eye makeup. A woman warrior among women warriors, Hannah even anticipated the current craze for women with bows and arrows in the John Sayles film Silver City.
Hannah executive-produced the Friday-night headliner at this year's United Nations Association Film Festival: Craig Rosebraugh's politely titled Greedy Lying Bastards. The film surveys the oil companies' mission to stifle ecologists, overrun small nations and game the system. Hannah (recently arrested in Winnsboro, Texas, as a protester against the North America–fouling Keystone Pipeline) will be on the red carpet Friday.
There are film fests that promote towns and ethnic groups and the talents of up-and-comers, but the United Nations Association Film Festival has the single greatest range of any film fest in Northern California. Begun by a group supporting the aims of the United Nations, the festival's mission is to deliver short and feature documentaries about the troubles of the world: reportage of wars, refugees and food shortages. The UNAFF was the festival that broke Gasland to our area, the first documentary about the hellish problems of fracking.
This year's offerings are just as strong. The Lord Is Not on Trail Here Today is Jay Rosenstein's history of the 1948 case McCollum v. the Board of Education, which first struck down officially mandated times for prayer in school. Love Free or Die is a profile of the first openly gay Episcopal bishop, Gene Robinson. Hazaribagh, Toxic Leather is a raking of literal muck: a view of the Bangladeshi tanneries where a frightful eco-catastrophe is underway.
California State of Mind: The Legacy of Pat Brown is Sascha Rice's study of the San Francisco–born governor. Rice returns us to California of the California Uber Alles era, with visions of superuniversities, infrastructure, transit grids and social services for all. It's a different picture than the broke and ungovernable mess we've been living with these last decades. And Trisha Ziff's The Mexican Suitcase similarly recalls lost history. It records the recovery of a valise full of never-seen photographs of the Spanish Civil War. The festival's venues include East Palo Alto schools, the Cantor Art Center and the Cardea Center for Women in San Jose; check UNAFF.org for showtimes.
UNAFF Oct. 18-28
Various South Bay venues