Movies
'Wages of Fear,' 'Les Diaboliques' at Stanford Theatre
Two of director H.G. Clouzot's best thrillers come to the big screen in Palo Alto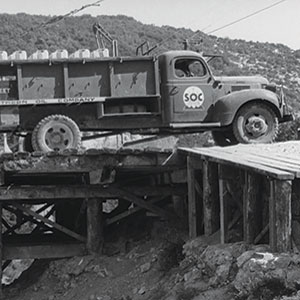 Death through spurned love, death through the livelong-day at work. Such is the great double bill The Wages of Fear (1955) and Les Diaboliques (1955), a brace of brilliant thrillers by France's H.G. Clouzot. As in all efficient death traps, the action is easy to describe.
The Wages of Fear, a masterpiece of cruel suspense, involves some stranded Europeans (Yves Montand, Charles Vanel and Folco Lulli) stuck in an oil patch company town in South America.
The men want to go home but lack the plane fare. Then an opportunity—of sorts—turns up. An oil well is on fire, and the oil company needs some expendable drivers to make the 300-mile journey to the oil fields with the explosives to blow it out. Unfortunately, no one remembered to tend the nitroglycerine, which is rotting and oozing in a shed in the tropical heat. One sudden bump and the stuff explodes.
Over swamps, crumbling bridges and cliffside roads, the drivers haul their nightmare cargo to their destination. This business was fresh enough to be filched for Solo: A Star Wars Story, but the essential pessimism of this tale is even fresher.
Clouzot's follow-up to his hit Les Diaboliques is straight-up terrifying melodrama. At a horrid French boarding school, a headmaster is carrying on with both wife (Vera Clouzot, the director's wife, dead before 45 from a bad heart) and his fleshy mistress (Simone Signoret). Together the diabolical women hatch a plan to get the man out of their life. Even after being sunk in the school's repulsively mossy swimming pool, he refuses to stay dead.
Both films have been remade—William Friedkin's harrowing Sorcerer (1977), his version of Wages, is his best film. There was more to Clouzot, not well-known enough here; the nigh-psychedelic unfinished film about mind-melting jealousy, preserved in the documentary H.G. Clouzot's Inferno; the classic 1940s crime drama Quai des Orfevres, and Le Corbeau, all about the trolls of yesterday, writing denunciatory anonymous letters to the occupying Nazis.
Clouzot's expert winching of nerves influenced Hitchcock himself—the famous joke Hitch made was that he'd heard from an anxious parent whose daughter didn't feel safe in the bathroom after the bathtub scene in Diaboliques, and then the subsequent shower scene in Psycho. Hitchcock drawled, "I told him to send her out to be dry-cleaned."
Wages of Fear/Les Diaboliques
Jun 6-7
Stanford Theatre