Movies
Review: 'Wonderstruck'
Silence is golden in this moving tale of two cities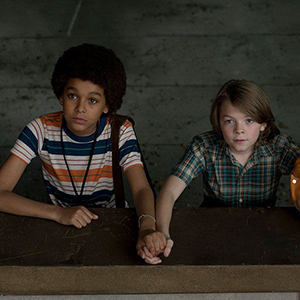 Anyone who has dug up an old book and wondered who it was that wrote his or her name in it 50 years ago... anyone who loves wandering the catacombs of a museum, standing and giving into the reveries of the people who once passed the same spot... such people might fall in love with Todd Haynes' Wonderstruck. This film version of Brian Selznick's novel is meeting some critical resistance. A reference to Dickens should ready an audience for a rich tale of coincidences and mysterious parentage.
In 1977, young Ben (Oakes Fegley) is orphaned, and then deprived of his hearing by a freak accident. Finding a stash of money left behind by his mother, he decides to search for his father, because of a mysterious message left on a bookmark. His story is contrasted with the tale of Rose (Millicent Simmonds) an affluent shut-in girl of 1927.
There are all sorts of reasons why this wondrous Wonderstruck should have failed, and the principle challenge was matching a pair of wildly different eras. Haynes (Carol, Far From Heaven) deftly switches back and forth from a silent era of sharp black and white angles to mellow color; when a taxi drives through the spray of an uncapped fire hydrant we think of Travis' journeys in Taxi Driver. These '70s streetscapes are as sterling as the recreations in The Deuce but with a far wider focus. It's grimy but nostalgic; the solution to the riddle lays in the kind of funky firetrap of a used bookstore that's going extinct today.
Simmonds, who is herself deaf, has tremendous charm as she pursues a silent film star (Julianne Moore); it's touching to see brave, dark-eyed Rose take in the last performance of a silent film at a theater where the Vitaphone equipment is about to be installed. Were deaf movie fans betrayed by the arrival of the talkies?
Playing allies of Rose's, Cory Michael Smith and James Urbaniak provide support. They really have faces, as Norma Desmond put it. Moore returns to connect the sundered history in pantomime; our finest living screen actress repairs the broken chains of time with the help of lovely toy-like miniatures, in a sequence free of the twee-ness of Wes Anderson. This is a film to cherish, and it's one of the best movies about New York I've seen.
Wonderstruck
PG, 117 Mins.
The Guild, Menlo Park