Movies
Review: 'Yesterday'
Neither Kate McKinnon nor choice needle drops can save this blasť nostalgia bomb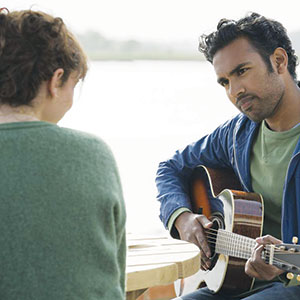 Back in his Trainspotting days, Danny Boyle might have agreed with The Clash: "Phoney Beatlemania has bitten the dust." As the older, richer film director of Yesterday, he's venerating the dusty mummy.
Audiences accept that a big purple extraterrestrial bugger can snap his fingers and evaporate half the universe. They shouldn't balk at Yesterday's premise: all the electricity in the world winks off for about 10 seconds and when the lights come back on, all the world's knowledge of The Beatles has evaporated, except in the mind of Jack (Himesh Patel), an unsuccessful guitar player and warehouse stocker in a placid Suffolk seaside town. He uses his memories to go straight to the top, with the help of Suffolk singer-songwriter Ed Sheeran himself. But with success comes etc. (Representing the etc: mean Los Angeles music industry type Kate McKinnon, who never slips this film's leash).
It'd be interesting to see Richard Curtis' Black Mirror-style script in less moist hands (Edgar Wright?)—someone who could have livened up the blocked romance. In a romcom, the obstacles under the feet of a pair of lovers should make it seem like they're dancing. But the interference here between Jack and sweet, loyal Ellie (pretty Lily James, a softer-chinned Keira Knightley) is more like having the filmmakers playing Donkey Kong and rolling barrels at their ankles.
The charm of the premise is twofold. First, the fantasy of inheriting a trove of music to play as one's own creation, while being gnawed by the special shame of the plagiarist. Second is the fantasy of hearing all those deathless songs for the first time.
Before Jack becomes a star, Yesterday has fun with the latter idea. He's at the piano in his family's parlor, getting interrupted by chiming doorbells as he tries to lay the world premiere of "Let It Be" on his parents. ("Leave It Be?" his dad wonders). Also fun is Jack's quick excursion to Liverpool to help him remember the lyrics he's supposed to sing; he tours such landmarks as the demolished Strawberry Field orphanage, and the boarded-up shop on Penny Lane where the barber used to shave another coostumer.
One effectively sentimental sequence: Jack's meeting with a pair of middle-agers who somehow didn't have their memories wiped; one is clutching a toy yellow submarine as a calling card. If Yesterday is a sweet movie, it's also a torpid one, with one bit of info per scene direction. Boyle gets stuck in the details—for example, business about the teeth that Jack had knocked out in an accident. Is this maybe a reference to the days when characters in British comedies had fewer teeth and more bite?
Yesterday
PG-13; 116 Mins.
Valleywide