Movies
Animated Arrietty
The new film 'The Secret World of Arrietty' is a Japanese animated version of the children's tale 'The Borrowers'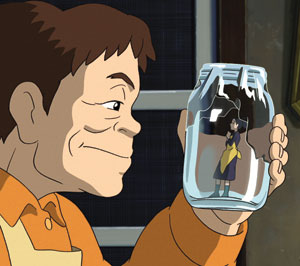 Hayao Miyazaki is in his 70s now. He supervised and co-wrote The Secret World of Arrietty, a Japanese animated version of the children's tale The Borrowers. Hiromasa Yonebayashi is credited as the director, but it seems like an elder man's movie—slow, contemplative and ringed with loss.
An action sequence, with an injury and a rescue, takes place offscreen. The main male character is a young convalescent, bedridden as he waits for a dangerous operation. This mortality is discussed in blocky dialogue; the boy accepting his possible death, his tiny new friend counseling him to fight against it. The exchange adds a tang to the seeming hopelessness of the friendship between the full-size boy and a tiny girl.
Arrietty, 14 year olds, 5 inches high, desires to spy on the world of the "beans" (human beings), despite the warnings of her father, who endures perils to "borrow" food, and of her mother, a little woman in constant terror of what might happen.
Miyazaki's Studio Ghibli (Princess Mononoke, etc.) excels at the charm of the miniature and has created a lambently green world for children over age 5 to explore. The Secret World of Arrietty counters the world of prettified Disney princesses with a brave girl who ties her hair back, carries a straight-pin sword at her side and scales the clifflike walls of kitchen cabinets. The film lavishes affection on a yard in tropical summer, on the grasshopper-nibbled weeds and the prowling insects. A distracted Arrietty strokes a visiting sow bug; it curls up like a kitty and purrs.
Two English-language versions were prepared, one for the United States and one for Great Britain. The English got Saoirse Ronan and Mark Strong as the adventurous lead and as the unsmiling, wary father. Americans must settle for TV stars Will Arnett and Bridgit Mendler, which may add to the general quietness of this saga.
On the bright side, Carol Burnett voices the harassing housekeeper who suspects something funny is going on. This maid is so broad-faced she looks like Alfred E. Neuman's aunt. Next to her, the funniest thing in the film is an overfed, bob-tailed cat who dislikes tiny people. Forbidden to hunt them, she looks balefully at them, a ringer for the old Orson Welles staring down an advertising director.
G; 94 min.