Movies
Skin Game
Alejandro Adams' 'Babnik' is one of the real treats on tap at Cinequest 20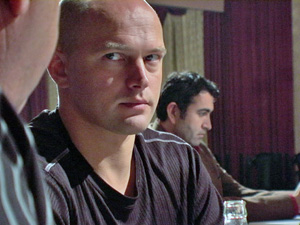 A RECENT Russian immigrant named Artem (Artem Mishin) gets kind of fired by his two jolly bosses at what is apparently a Silicon Valley telemarketing job. As told in Alejandro Adams' new film, Babnik, one of the more intriguing features slated for this year's Cinequest, Artem had tried to ingratiate himself with the bosses by coming in on a weekend. This just creeped them out. The bosses didn't want Artem hanging out, and they tell him so. Artem goes home, and he has to explain to his wife that his bosses "kind of implied" that they want him to go part time.
The weasel phrase "kind of implied" sums up Adams' work, whether Around the Bay or Canary. Babnik—maybe the Palo Alto filmmaker's best yet—examines a group of work places. Adams gives us a sex-, violence- and scandal-free view of the skin trade. Just as a beatnik means a person who's into beat culture, a "babnik" means a man who's into the babes. The immigrant Russians we see here work different scams. They provide personnel for soft-core and hard-core porn. They hang out together, including Misha, who looks kindly and hippiesh (he's played by Michael Umansky, who is excellent). Adams zeroes in on some almost healed skin on Misha's knuckles, and this tells us that he has used his fists at some point. Mir is the cute one brought in to comfort skittish new girls. There is also a formidable enforcer—the shaven-headed Slav, Sasha.
Adams found the right faces, but he also seems to have the milieu right. We see this particularly when Misha recites a sales script of his own. His scheme is to get desperate photo models indebted to him, selling them cosmetics they can't afford as a term of their hire. Misha's sales script reflects back to Artem's problem. The telephone-sales bosses had a bone to pick with Artem because he was reciting a sales pitch by rote, instead of adding his own words to it. The women in Babnik are in the "kind of implying" trade, hanging out at the after-hours bar where Russians play cards. Here, the desperate Artem loses more than he can afford and ends up indebted to the pimps. The women here have the sharp, expectant look of the performers in Toulouse Lautrec posters: the busty hostess who brings in the vodka as well as the b-girls aimlessly fluffing men's shoulders.
Babnik looks investigated. Adams and co-writer Marya Murphy make the criminals appear authentic through the hustler's air of nonchalance, through the assured editing, through spaces that go dialogue-free. Some spots have untranslated dialogue, a method for tightening suspense that's been used as far back as Fritz Lang's Man Hunt. I stuck with Artem's story as one way of writing about this film. But Artem isn't the film's hero or villain. Other threads can be followed throughout: the story of Nice Guy Misha, or the wee baby-faced girl who hangs out with these affable pimps—or, for that matter, the one really innocent character in the film: a young Russian immigrant, his face as closed as a fist, who pushes a broom at the local deli. Working with no budget and local locations, Adams has burnished all the falsehood out of this fiction. With Babnik, Adams is no longer a local genius but a national contender.
BABNIK (Unrated; 81 min.), directed by Alejandro Adams and written by Adams and Marya Murphy, plays Feb. 26 and March 3 at Cinequest.
CINEQUEST runs Feb 23–March 7, in downtown San Jose. See cinequest.org for schedule details. (Metro is a sponsor of Cinequest.)