Movies
'Bernie'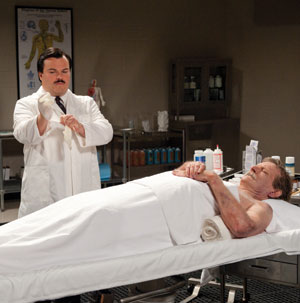 Bernie ( Jack Black) is a plump and dainty mortician of the piney-woods town of Carthage, Texas. There is no slobbiness in Black this time, in the natty Wayne Newton mustache or the well-fed body that recalls the spruceness of the proverbial bathed-in-buttermilk pig. At the beginning, he demonstrates the mortician's art at a class. He shows the importance of gluing shut a rebellious eyelid: "It's as if they want a last look at this miraculous world."
He begins a relationship of sorts with the richest and most vicious widow in town, Marjorie Nugent (Shirley MacLaine). Whether Bernie is her friend or her kept man is still a matter of lively discussion in Carthage.
As in Slacker and Waking Life, director Richard Linklater makes rounds of interviewing the locals, a group of semi-pro actors, most of whom are killingly funny. If it sounds like a put-down to describe acting as pulling faces, MacLaine pulls the best faces seen this year or in many years. Her eyes may hide a bit in crinkled flesh, but they're still capable of a Medusa glare. She's uproarious, filching scenes with reliable old comedy tricks like noticing that the huge diamond on her finger has a smudge, breathing on it to give it a little polish, or by snapping a pair of opera glasses at a consoling hand.
Bernie is based on a true-life murder case, originally reported in the Texas Monthly by the co-scriptwriter, Skip Hollandsworth. Linklater keeps in almost all the details. But this version goes more meta, as per Linklater's career skill in hunting down a vibe. Bernie celebrates the contradictory charm and awfulness of such a small town—it's a place where they think the best of you and the worst of you, says one citizen.
One of Linklater's subjects is a sweet old lady saying, "We're all capable of that dark moment if we get pushed hard enough." Linklater leaves us half a moment to take that in. He wards too-cuteness away by recognizing the seriousness of that sentiment, dwelling in the hearts of the seemingly nicest people.—Richard von Busack
PG-13; 104 min.