Movies
From Beyond the Hills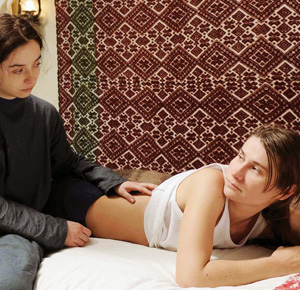 The best European cinema—and Beyond the Hills by Cristian Mungiu is firmly in that category—is a slippery realm. You can start out watching a film feeling morally certain and then learn you don't have firm ground to stand on. The complexities multiply. The proverbial everyone has his or her proverbial reasons.
Mungiu deservedly won the Palme D'Or at Cannes in 2007 for 4 Months, 3 Weeks, 2 Days, but Cannes takes away what Cannes gives sometimes. Beyond the Hills was booed by a crowd that didn't feel (it seems) that the boom had been lowered hard enough on the ostensible villains of this piece.
In Beyond the Hills, Mungiu, a journalist turned filmmaker, takes a searching documentary approach to an investigation. He gives us long takes and self-acknowledged "dead spots" when little is going on for a minute or two.
His sources are "nonfiction novels" by Tatiana Niculescu Bran, who apparently does exposes of the politically well-connected Romanian church. The subject of the film, the Maricica Cornici case, is well-known there—and it could easily happen here.
This fictionalized version has an angle—it's a love story between two young women. The small, quiet Voichita (Cosmina Stratan) has apparently been less than frank with her friend and lover, Alina (the smoldering Cristina Flutur). Alina has fixed them up with restaurant jobs in Germany, but what Alina doesn't know is that Voichita has joined a nunnery. It's run by a born-again convert, a former electrician who saw an angel. Where did he see it? "He doesn't talk of such things with us"—us meaning women.
Romania is, like the French countryside 50 years ago, a place where you can still see pieces of the wood-fire and candle-lit world of the Middle Ages. There are strict guidelines—penances of a thousand kowtows to the Virgin Mary, a list of 441 sins to be memorized. Menstruating women are considered unclean.
Alina follows her friend to the place and shares her room, but she's surprised to be sexually rejected. The two women had grown up together in an appalling orphanage, and Alina had protected her until they left. As someone raised in institutions, Alina tries to manipulate the rules so that she can stay by the side of the only person she's ever loved.
Then comes the fork in the story. Furious at Voichita's adherence to this backward way of life, Alina has a meltdown. She's taken to the hospital. The ineptitude there is counterpointed by a kind, scruffy doctor with enough time to take short breaks at his desk with the worried nuns—even for what seems to be an ordinary hysteria case, complicated with some respiratory troubles. ("These goddamn illnesses, they won't kill you but they won't let you live.")
When the ill and unstable Alina returns to the monastery, just so she can be with her beloved, Beyond the Hills becomes a species of those exorcism movies that audiences gorge on, only done with a realism and ambiguity usually missing from the genre.
There's no room for doubt about what's going on, thanks to the calm, understated acting. The movie encapsulates many of the themes in the other first-rate films from Romania: the hospital bureaucracy of The Death of Mr. Lazarescu and the cop-shops full of jesting-Pilate-type officers in Police, Adjective.
Alina's ordeal winds up the audience. Flutur (who resembles the spiky Katrin Cartlidge of Mike Leigh's Naked) shows us a one-person wrestling match, the stubbornness of a survivor in mortal conflict with a lover who can't let go.
The film's last shot sums up the off-handed, bitter, but intelligent way Mungiu makes his real-life tragedies. We look out on a street through a police van's windshield and see a gruff cop telling his partner the winter will end soon. The frost clears to something pretty: children crossing the street in the snow, the colors of their coats glowing in the clarity of freezing air. Then, as if a rebuke to this sense of rightness, to our belief in knowing what we see: a virtual slush ball is thrown at the camera as a bucketful of gutter water churned up by the wheels of a passing car obscures our view.
150 MIN